Start Your Glamping Business Now
Here it is, the ultimate guide explaining how to start a glamping business. All the information you need, from conception to completion.
We realised that, from the outside looking in, starting your own glamping business can be overwhelming. This is why we created this tell-all guide to outline the journey ahead of you. We'll show you the key things you'll need to tackle in order to create a successful business and we'll put your mind at ease by showing you how reachable your dream of starting a glamping business could be.
If you prefer to read offline, we've created a free downloadable version of this guide, which you can save and read at your leisure. If you are short of time as you are getting ready to start your glamping business, this downloadable version will be perfect for you, as you can dip in and out as you are able.
Before You Start
Think about this for a second: are you ready to start this venture? Have you considered what will be required of you and your team (if you have one) to make this a success?
Are you prepared to put in the time required to make your dream come true? Make sure that you are serious and committed to the start-up of your business before you commit to any spending. Once you are sure that you are ready to start, read on for all the ins and outs of how to start a glamping business.
Land Requirements
Making sure that you are aware of what land is required is essential before you begin your journey. Do you already have the land to start your business, perhaps owned by family members? Or do you need more information about the best types of land for glamping sites?

Either way, you may need planning permission to start your glamping business. Owning land is a very good position to be in and can save overall costs in the long run. If not, don't worry, you can mortgage or rent land space which will be a cheaper option upfront than purchasing land outright.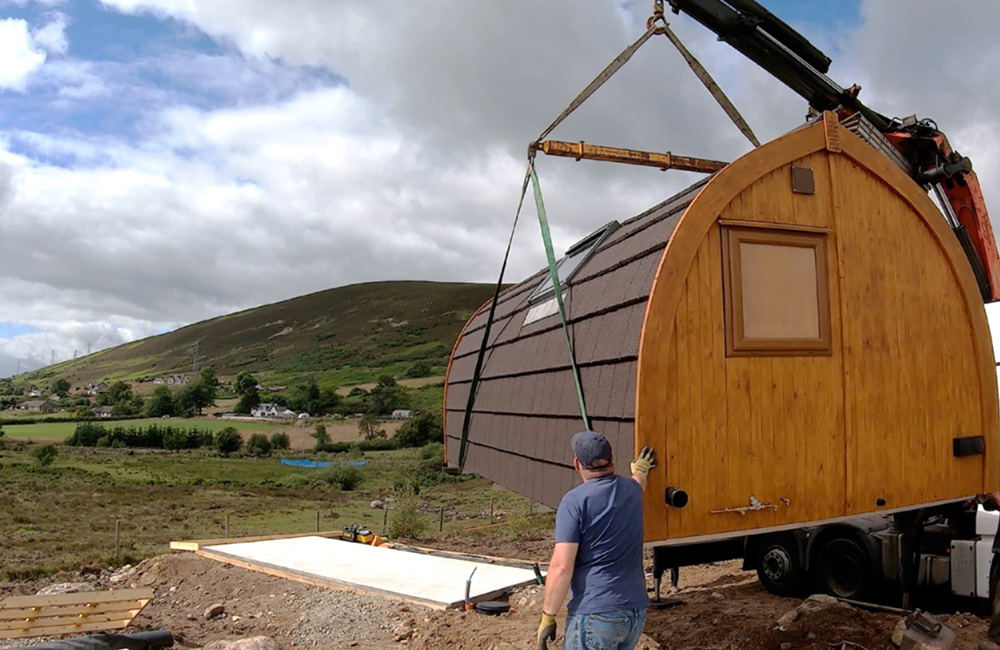 Do You Have Enough Money?
Your glamping site will obviously cost money to set up. Before you even begin to consider the return you can make on a glamping business you need to understand that there will most likely be a large investment cost.
Because of this, you will need to make sure that you have the funds to start your business, whether this will be through cash acquisition or through loans etc.
What Is A Feasibility Study?
A feasibility study is an analysis that looks at all the factors that will be involved in your prospective glamping business. The study looks at these factors against your vision for your business in order to determine whether your project will be profitable and ultimately successful. Here you will find out more information about the project itself, such as how much demand there will be for your business; the study can bring to light a lot of benefits when you actually start your venture as it can show you what areas you might need to focus on at the beginning.
Here at Glampitect, we offer to complete your feasibility study for you. We understand that gathering all the information and analysing it can be a time consuming process, so, by letting the experts do it for you, you save time and end up with a more in-depth analysis of the full potential of your glamping business.


A feasibility study is one of the most worthwhile investments you can make when starting a glamping business; the study can potentially save you thousands of pounds and even can prevent you from making catastrophic mistakes. In short, a feasibility study will help you be fully prepared for the road ahead, and you can commission one here.
Planning Permission
This next stage of starting your glamping business is also essential.
When you are completing a planning permission application, you will more than likely need to produce some drawings. You can of course draw these yourself but it may be time efficient to hire someone with appropriate expertise to cover this aspect of the planning permission application for you. A specialist will be able to produce drawings with the right level of detail, such as specific measurements/dimensions that will be appropriate for the council you are applying to. At Glampitect this is something we can assist you with. In fact, we can cover the whole planning permission process for you!

During the process, there are two stages you should look at in order to give your planning application the best possible chance of being approved.
Pre-Planning Permission
Pre-planning permission is a relatively low level stage of the process but is still crucial.
This stage is where you try to get a clear understanding of how your local council view your proposed development. Essentially, this is where you send a proposal outlining your glamping business to the council, who will then give you advice on your application so they can be amended appropriately before the full application is submitted.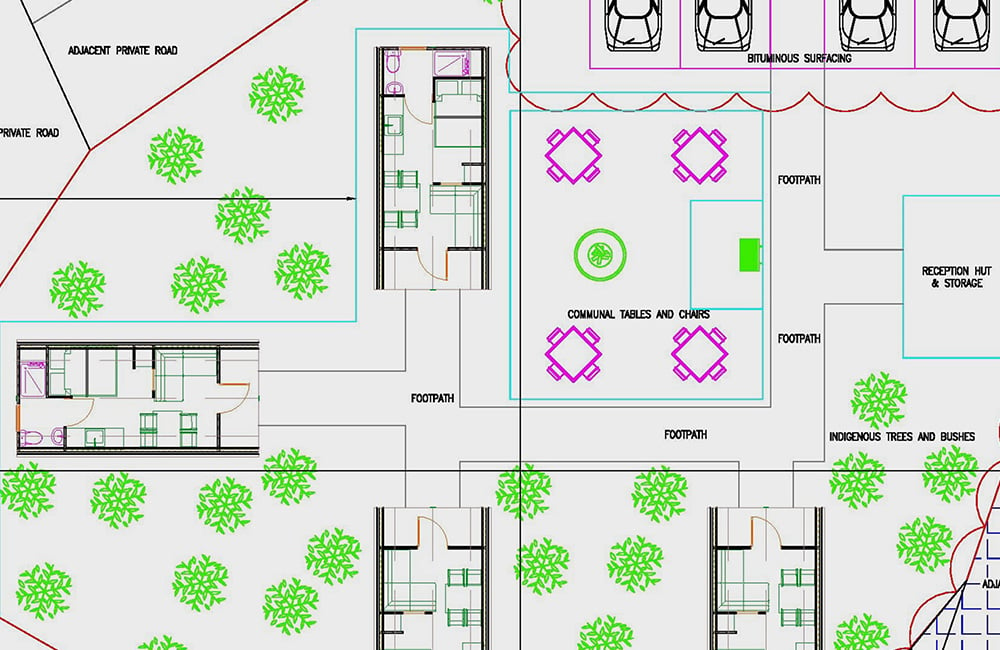 Full Planning Permission
What is the difference between pre-planning and full planning permission?
Full planning is far more expansive in terms of the technical drawings and information that you provide. It includes drainage system designs, parking dimensions and also contains far more detailed information than a pre-planning application. And while pre-planning is optional, a full planning application is mandatory, as you'll only be granted planning permission when your full application is approved.

Whole Site Drawing – This is the full drawing of your glamping site. It should map out the site in its entirety; the plan can span two or more drawings depending on the size of your glamping business and what dimensions the council require the plan to be in. You will need to include: Pod locations – Parking locations – Communal areas – Greenery areas such as trees.

This level of detail is vital for a full planning permission as the council you are applying to will not accept your application if they believe there is something missing.

Drainage Drawings – An essential part of a glamping site are toilet and shower blocks. It is important that you include in your proposal how the drainage for these blocks will function. The council will be interested in this aspect due to the environmental impact they may have. As it can be tricky to compose these details, it is a good idea to contact an expert in this field for advice.

Reports – You will also be required to include more detailed information than you would at pre-planning stage. This includes market research, ecology reports, landscaping plans. Basically anything that will describe the development adequately enough to allow your planning to be properly assessed and improved.


It's very important to make it as detailed as possible. You want your planning permission to be approved, therefore you need to make sure everything related to development has been thought of. You do not want to present a rushed, planning application and find out you have forgotten details that are pertinent to your plan. Therefore it is important you make sure you take your time and include everything that is required for a full planning application.
What To Expect When Applying
When you are creating a planning permission application, expect the whole process to take a long time. It is certainly time-consuming but do not let that dishearten you. It is more important that you take your time in order to make sure it is a well thought out application.

When you submit your application, you should also expect a charge to be incurred. This is necessary in order to pay for the council planning officer's time to assess your proposal.
Your proposal will be made publicly available on your council's planning portal. It will also be advertised locally to make existing businesses and residents aware of the planning permission request. This is to allow residents to review and make comments on your proposal. Once it has been made public you should expect some members of the public to make negative comments and quite possibly object to your proposal.
This is just a standard part of getting planning permission for any development; it is completely normal to receive negative comments on your planning proposal. They tend only to be problematic when there is a large group of people making negative comments or objections. However, if there has been a legitimate claim that your proposal may have a negative effect on the community and environment as a whole, you may encounter a high volume of objections.

Our planning permission services have a pass rate that is second to none, for a fantastic price! We offer this service because we know how intense the process can be, especially for someone who has no experience of applying for planning permission. Relax, we can take that pressure off you and guarantee that, with us, your planning permission will have the highest possible chance of being accepted. You can book a call to discuss your planning application here.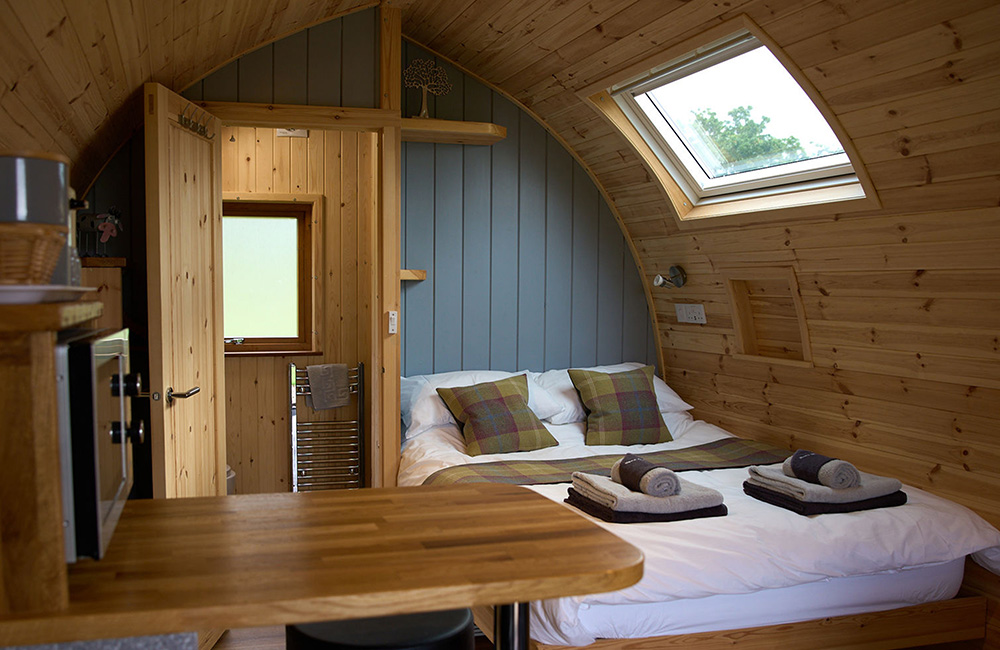 Your Glamping Units
The most important thing you will need when you start your glamping business? Glamping units of course!
Your glamping units will be the main attraction for your business so it is important that you consider your accomodation in great detail. While you can market your glamping units and take bookings before they have even been manufactured, it is important to make sure that when your business goes live they are completely ready for your customers, and ensure that they are delighted to stay in your fantastic accommodation.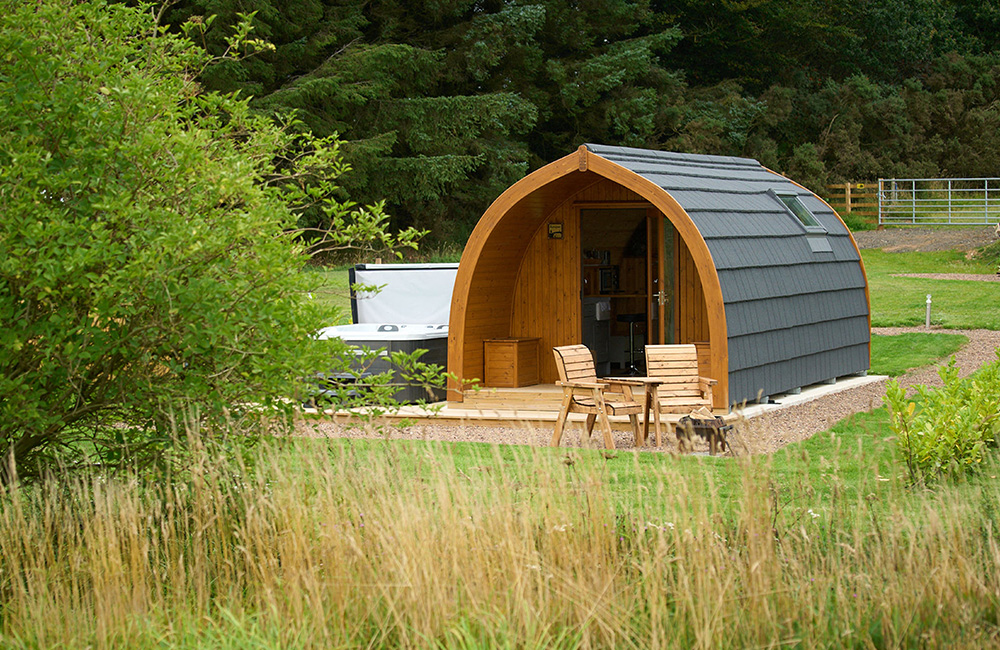 Financing Your Glamping Units
If you have the ability to purchase your glamping units outright, you are in an extremely fortunate position. However, we have found with most glamping prospects, purchasing units outright is not a feasible option. So, for those needing a cash injection before buying accommodation units, there are various options available to help you.
Financing glamping units happens regularly in the industry and there are different ways to go about it. However, the two most common are Hire Purchasing or a Finance Lease.
Hire Purchase
This type of finance is based on the agreement that you have the intention of purchasing your glamping units outright. You pay a monthly fee over an agreed period of time and you pay the VAT for the item on the first payment made. Hire purchase financing is perfect for those who want to become the rightful owner of their glamping units further down the line.
Finance Lease
This is probably the most common type of financing for glamping units. It is similar to hire purchase, however, there is no prior agreement to become the owner of the glamping units. Because of this the units are technically an operating expense and you may be able to claim tax deductions on them. Also, the VAT on the units is paid monthly in line with the agreed payments.

While both of these types of financing have an agreed rental period, you can opt in for an early contract settlement during which you usually pay an early settlement fee plus additional fees. This process is usually more costly if you are in a Finance Lease agreement than a Hire Purchase, therefore careful consideration is needed before you agree to any type of finance. We can offer advice on whether you need to finance your glamping units, as well as recommend great manufacturers that can give you high quality units that will make your business boom.
Business Plan
A glamping business plan is essential for any glamping business.
While you may be sighing at the thought of spending more time writing than actually getting your business started, fear not. The business plan can be as long or as short as you want. We understand that all people work differently. Writing out a 50 page business plan can work well for some businesses and not at all for others. It is perfectly fine to have your business plan in your head – the main thing is to have a clear idea of the direction your business is heading in.
Setting Up Your Business
You've got your planning permission, your feasibility studies are done and your units are financed. You are almost ready to open your glamping site to the world, so what's next? Establishing your business!
When starting up a glamping business it is helpful to have a look at what else is out there for inspiration. Of course we offer fantastic advice on how to start your glamping business, with plenty of guides available taking you step by step through the process. There are also other ways you can gain inspiration, such as looking at websites and YouTube videos, and you can also browse our social media content on Facebook and Instagram.

Once you have your inspiration, you will need to decide on the structure that is best for your business. As we are not accountants we will not offer you advice in this regard. However, we have found that Limited Companies are the most frequently used in our industry. It is best for you to look into the different types of structures and decide which will be right for you, taking appropriate professional advice if needed.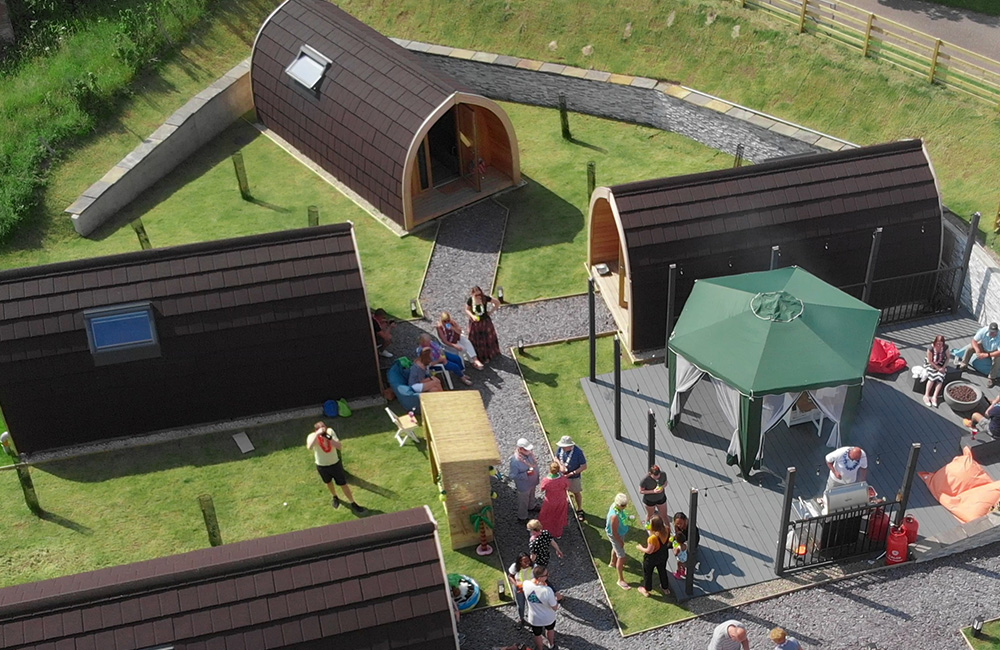 Marketing & Branding Your Business
We are delighted to offer you comprehensive advice about marketing and branding. Here at Glampitect, we pride ourselves on our skills with regard to marketing glamping businesses and creating brands.
We offer a free marketing guide for those who need some extra input on how to promote their business and we work with clients to produce content for their online sites and much more. Alternatively, if you are looking to build long-term marketing strategies to grow your business, hiring a reliable agency could be the best bet for your business.
Branding
Branding is key to becoming successful in any line of business and a strong brand can help your glamping site attract attention and be memorable . We think of this step as one of the most vital but most overlooked of the glamping journey.

Branding your business is the process of creating your business's image in such a way that it stands out from your competitors. There are a few techniques you can use to make sure that your glamping business's brand stays in the mind of your potential customers.

Choose your Brand Colours – What colours represent your glamping site? When potential customers visit your website what do you want them to see? Having an agreed set of colours can establish the personality of your brand in the minds of your customer base with calming blue colours, or warm reds, for example. Having specific brand colours on every piece of content with your name on is a great way to be instantly identifiable to your customers or potential customers.

Your Logo – Every brand MUST have a logo. It can be as simple or as elaborate as you desire, remembering that your logo will be more identifiable than your colour schemes.

Consistency is key – from the colours of your brand and the logo to the type of language you use when writing your content, you should stick to the same style. Create familiarity to help your customers feel comfortable. The ultimate goal is to instill trust within your customers, which will boost bookings, recommendations and sales for your glamping business.
Marketing
Website – Establish your website by putting time and effort into making it the best it can be and then keep improving it. You should treat your website as your storefront – the first time most customers will find out about your business will be from visiting your website, therefore it is vital that it looks good and is engaging. Having a basic website that looks like it was made 10 years ago will put customers off from browsing through your site. If you don't put effort into your 'storefront' then the customers will not put effort into it either.

Social Media – Using social media to post content and to market your business will create more sales. This is a fact that you may not want to face, but social media will make you money. Having a presence on key social media channels will benefit your business greatly. Don't worry about trying to touch all bases in this regard, use the channels that work best for you and your customers.

SEO – Standing for Search Engine Optimisation, this is the technique that is used to help you feature on the top pages of Google. If potential customers can see you straight away from one google search, then you are doing the right thing! Our marketing checklist will give you more information about SEO and how you can use it to your advantage.
Using The Internet For Bookings
Now that your business is being marketed, your brand is established and you have a high volume of interest, it is time to start taking bookings (if you haven't already).
There are numerous ways you can organise your bookings: manually having someone answer the phone for bookings is a great way to get personal with your customer base and stay organised at the start of your business. However, in order to truly grow as a business and generate more bookings, you will have to advertise your glamping site on a few different holiday websites and to achieve this with minimum effort, we recommend using a Channel Manager.
What is A Channel Manager?
A Channel Manager is a program that brings together all the sites you advertise on, such as booking.com and Airbnb. The Channel Manager is essential to streamline your bookings and make sure that all the information about your site is available and up to date on all channels at all times. This 24hr automated tool allows you to take bookings all day, everyday and has a wide range of benefits. Once you start to use thw channel manger tool, organising your bookings will be much easier. You'll never look back!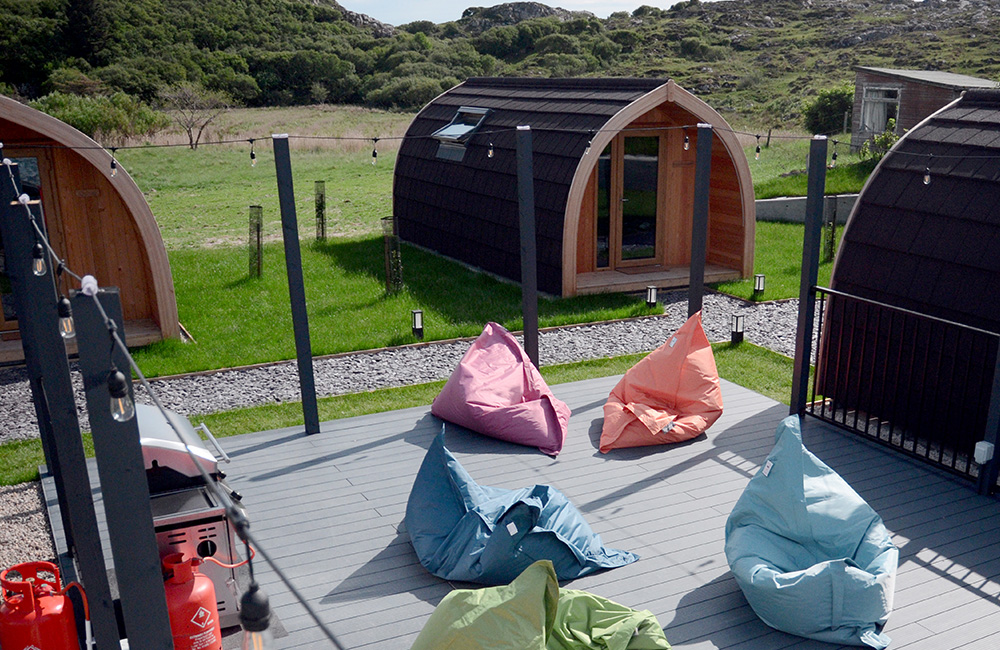 Open For Business
Now you are taking bookings, and you are ready to start letting guests stay at your glamping site. This is an exciting moment so enjoy it! Your dreams have come to fruition. If you have followed the advice above (especially with marketing and branding) then you should have a high number of bookings. This may seem overwhelming at first, but being busy means being successful!
Here are some key things to remember when you finally open for business:

Reviews are your friend – The good ones you can brag about on your social media pages, the not so good ones mean you can strive to improve!
Go above and beyond, put in the extra effort with your customers – exceeding their expectations will only play into your hands.
Be active on your socials! This has already been said in this post but it is arguably one of the most important aspects of running your glamping business once it is up and running. The more you engage with your community, the more successful you will be.
Have fun, enjoy the profits! All your hard work has brought you to this moment, so take time to relax a little and enjoy your amazing achievements!

There you have it, your guide to starting your glamping business. If you, like us, are proactive and you want to get started on your business right away, it may be worth downloading our guide. That way you can have all the information you need on the go, perfect for those who are getting stuck in!

Before you get started, however, if you think that you might need help at any of these stages then we are here. At Glampitect we cover all aspects of the glamping site set up process. Our services can cover as much as you require; we can help you just on one aspect of your glamping journey or we can be there from start to finish.
Download Your Free Guide
If you found this information useful, download our ultimate guide to starting a glamping business and read it at your leisure.