Designing the Perfect Glamping Site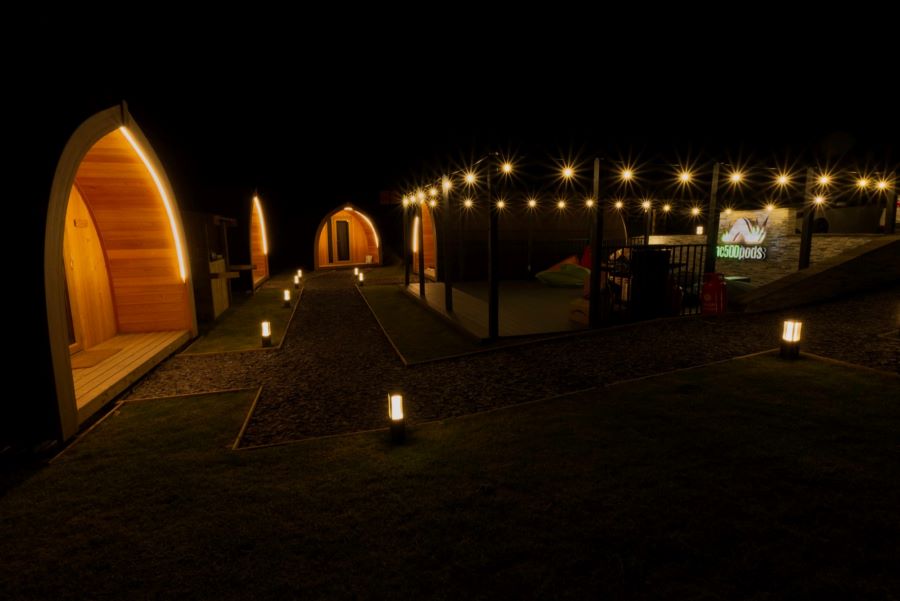 Just imagine…
You're on your way to a new glamping site in the countryside with your family. You've all been looking forward to this trip for months. It's not going to be cheap but it will be worth it to reconnect with the natural world in a luxurious setting.
But when you arrive you notice there isn't a welcoming sign at the entrance. As you approach the car park you have to swerve to avoid a pothole. You look ahead and there are two cheap-looking glamping pods practically touching each other in a field. There's very little greenery unless you count the composting toilet in the corner.
You realise you've made a big mistake.
Good glamping site design is so important as it's the foundation for an outstanding guest experience. It only takes a few negative TripAdvisor reviews to threaten your glamping business' survival, so you don't want to give people an excuse to complain. You also want to make sure your site is designed to the standard required to acquire planning permission, as your local council won't grant you permission for a site that sticks out on the landscape like a sore thumb.
Today, we're exploring what goes into good glamping site design. It's split into two parts: (1) Factors to consider for planning purposes; and (2) Factors to consider when creating an excellent guest experience.
Glamping Site Design for Planning Purposes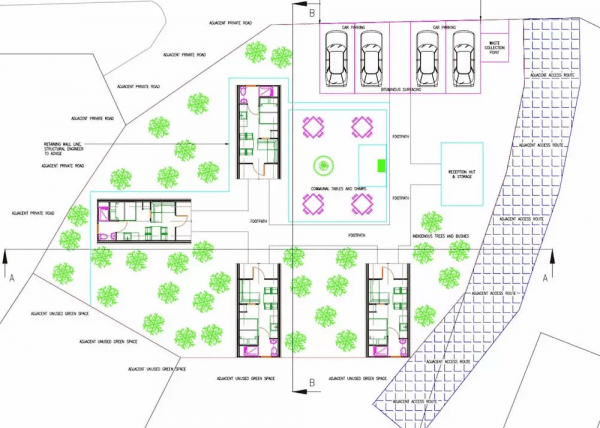 Not everything about designing the perfect glamping site relates to the guest experience. If you want to be in the position to open any guests at all, you need to acquire planning permission for your development, and for that your site will need to be tastefully designed. Your project won't be approved by your local council if you decide to install 20 huge units that are unsuitable for the setting. There are lots of factors that go into designing a glamping site with planning permission in mind:
Suitable Units
Your glamping units should suit the character of the surrounding area. If you opt for glamping pods, this shouldn't be too much of an issue, as their wooden finish integrates nicely into a range of settings. Things get trickier when you choose units with metal or painted finishes as these contrast more sharply with certain backdrops.
Size is an important consideration when choosing your units. If your site interferes with the visual landscape of neighbouring properties, you'll likely be restricted to smaller units that don't impede lines of sight. If you really want to go for larger units, make sure that they're appropriately screened from view, e.g. by planting semi-mature trees.
For more information on the types of glamping units that are available, check out our previous article on the best units for your glamping site.
Scale
The bigger the project, the trickier it is to get planning permission. Planners are keen to ensure tourist developments are appropriate for the surrounding area, and huge 50-unit sites don't tend to fit the bill. That doesn't mean that large-scale sites can't be approved, but there has to be a stronger argument to justify the development if it's big enough to create concerns over traffic, visual pollution, biodiversity, etc.
It's generally easier to start small and grow rather than going all in on a huge development. If you can prove that a 3-pod site is financially viable and brings benefits to the local area, you're more likely to convince the council to add an extra 5 pods than if you'd applied for 8 pods from the off.
Flood Risk
Sometimes a piece of land that a client brings to us will be in a high flood risk zone and will be unsuitable for a glamping development. Sometimes there will be no flood risk whatsoever.
Often, however, there will be a few patches of flood risk across the site. This isn't usually an issue that threatens an application, but it might require you to adjust the layout of your units to ensure they're positioned away from the risk zones. This can be difficult on small pieces of land where there isn't much room, in which case it would be prudent to undertake a flood risk assessment to gain a more accurate picture of the extent of the risk.
Access
Once your application has been lodged with the council, they'll seek consultation from a variety of public bodies, one of which is the local highways authority. They'll give their feedback on issues such as the level of traffic the site might generate and the suitability of the site's proposed access points.
When designing your site, you must ensure that it is easily and safely accessible by car. This should account for cars leaving the site too, as an exit point straight onto a 60mph bend would clearly be unsafe. If you need to create an access point, or your current access point is unsuitable, think carefully about the most suitable location. If you're still unsure, make sure you contact experts like Glampitect.
Glamping Site Design for an Outstanding Guest Experience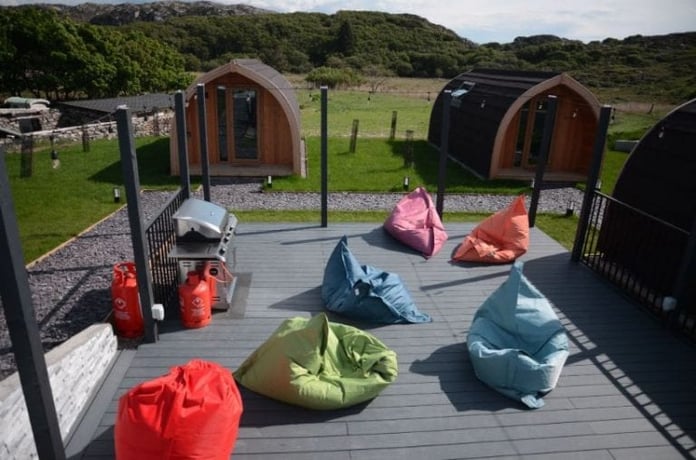 It's all well and good designing a site capable of acquiring planning permission, but you can't forget about creating a memorable experience for your guests. Their holiday starts from the moment they arrive at your site, so you want to wow them from the get-go.
Some design considerations are relevant both to planning applications and guest experience, such as choosing suitable units. But there are also those that are particularly relevant to creating a beautiful site, and here's a selection:
Spacing
Even at budget campsites, people appreciate their own personal space. With glamping being a high-end offering, it's even more important to ensure privacy for your guests. The easiest way to guarantee this is by siting your units a reasonable distance apart from each other. If you cram them all into a tiny field, you may have a higher earnings potential but your occupancy rate will fall because your site is less appealing. Give your guests enough space to relax and the bookings will come flying in.
USPs
A USP (unique selling point) is something your glamping site offers that the competition doesn't. It's essential to setting your site apart from others in the area. USPs can be anything from bespoke units, to Amazon Alexas, to a themed site. One of the most popular USPs is the hot tub, which is known for attracting guests and allowing site owners to charge a higher nightly rate.
It's important to remember that hot tubs require a lot of daily maintenance, as they must meet certain safety standards. However, if there's a suitable spot in your site (perhaps with a view) then they're well worth the time and money.
Landscaping
A huge part of glamping's popularity is the opportunity it offers to reconnect with nature while retaining a sense of luxury. To do this properly, pleasant surroundings are needed. You may choose to leave your land somewhat 'wild' to offer an authentic experience, or you may opt to create a floral paradise by landscaping your site. It doesn't really matter which way you choose to go. What does matter is having a vision for your site, planning what needs to be done and getting to work.
Accessibility
Accessibility is a topic that merits more discussion in the glamping industry. A 2019 study found that 480,000 UK adults didn't go on holiday because of a lack of accessible provisions. It's important to remember that accessibility doesn't just refer to helping people in wheelchairs either; it includes the elderly, parents with children in pushchairs; people with broken bones; people with learning disabilities and more.
There are lots of ways to make your glamping site more accessible and many of them are cheap and easy to implement. For example, by siting an accessible glamping pod (e.g. one with a ramp and wider door frames) near your car park, you'll make life a million times easier for people with additional needs. Not only is this a great thing to do, it also encourages repeat bookings, as those with accessibility requirements know that your site caters for them.
For more information on this topic, take a look at this article on making glamping more accessible.
Drainage Solutions
Drainage is something that nobody wants to talk about but is absolutely necessary to a functional glamping site. When you think of luxury, the last thing that comes to mind is a composting toilet. That's why it's vital to find the right drainage solution for your site.
Some sites may be able to connect to an existing sewer network, while others may opt for a septic tank. However, for the majority of sites, we recommend a private sewage treatment plant from providers such as Viltra Wastewater Technology. Good glamping site design requires hidden elements, and none are as important as a high-quality drainage system.
We recently recorded a podcast with Grant Simpson of Viltra Wastewater Technology on the subject of drainage solutions, and you can listen to it in any of the following places (just click on the relevant bullet point to be taken there):
Need Extra Help?
If you want the glamping site design experts to help create a dream glamping site for you and your guests, we now offer glamping site concept designs. These are invaluable for deciding on your site's layout and for planning applications. Get in touch to find out more.