Popup Glamping in Lockdown: 28 & 56 Day Rules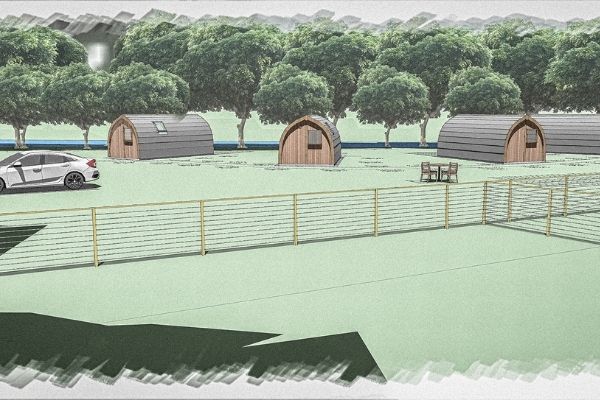 It is a hot topic for glamping business owners and operators as to whether they require planning permission to setup a glamping site. Completing a planning permission application requires dedication, time, investment and (as anyone who has gone through the process will tell you) a sound degree of resilience. The complexity of documentation required, and the skill set needed to complete technical drawings and professional reports, can put many aspiring glamping site owners off.
The majority of those looking to start a glamping business require assistance from experts to complete a successful planning permission application. We would suggest you reach out to Glampitect for a free consultation or engage with a local planning consultant and architectural designer.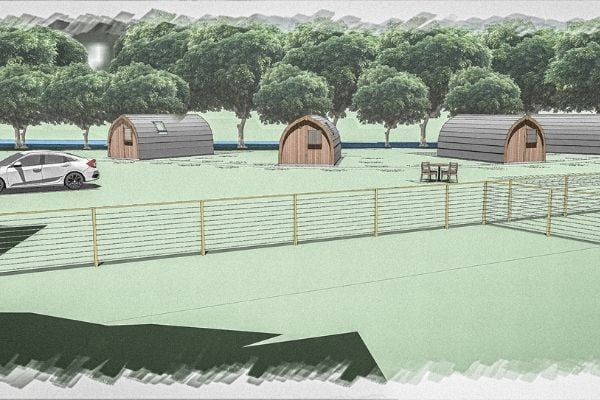 The criteria you must meet to start a glamping site without planning permission approval are as follows:
A single pod on privately-owned land attached to a dwelling i.e. in the garden of a house or residence
OR
A temporary or 'popup' glamping site that features moveable units and is only open for a short period of time in the year
AND
AND
This blog focuses on the requirements, benefits and drawbacks involved in setting up a temporary glamping site. If you are unsure of the scope you have to setup a successful glamping site, it is imperative that you conduct a feasibility study on your land & locality.
Operational Development
Operational development is the technical term given to any engineering or construction works on a piece of land that have a permanent impact. These include (and are not limited to):
Engineering works
Installation of utilities such as water, electricity, telecoms & broadband, central heating
Any work that alters ground foundation
Paths, roads, artificial ponds or wetlands, walls
Certain types of fences & signs
Lighting
Any sort of structure that cannot be moved
It is apparent how restrictive the rules around operational development works can be for starting a glamping site. Even the most rudimentary of glamping dreams can be stifled quick on the realisation that your pod will not be able to have running water or mains lighting.
At this stage it is worth thinking about the type of glamping units that will be suitable. Shepherd's Huts may appear an obvious choice for transportable units considering they are set on wheels. However, the huts start to feel quite basic without functional kitchen appliances, lighting or a bathroom. Naturally, under planning permission law you would not be able to construct any toilet/shower blocks or communal dining areas as alternatives.
The ideal glamping units for temporary sites tend to be tent-based structures that can be popped up and down with little effort. Bell tents or yurts can be a solid option where in-house amenities won't be expected by guests. These make for popular options for seasonal glamping businesses you are likely to find at events, festivals and holiday grounds.
Changing the Use of Land
If any sort of land development changes the primary use of a piece of land, then you will require planning permission – regardless of the scope of construction works and whether they fall under operational development. This sounds ambiguous but can be approached with the basic understanding that if land is going to serve a specific purpose, particularly as a business function, then it will be considered a change of use and hence you will require to have planning permission approved.
A council would class a untouched countryside used to site a business location (such as a glamping site). It pays to be aware that any construction or engineering related to the diversification of a business will count as changing the use of the land. For instance, if a business extends capacity to outdoors or builds on land owned by the business such as extending a carpark or similar.
If the development of land impacts the plot or surrounding area for more than 28 days, without the ability to return the land to its original state, then you will need planning permission to complete the works.

The 28-day rule
If you wish to start a glamping business or site without planning permission, traditionally in the UK you are allowed to do so for up to 28 days within the calendar year. This is commonly known as the 28-day rule.
Your allowance is used for any setup or construction time as appropriate in the sense that any structures on the land will count towards it, regardless of if the site is open for business. Hence it is worth bearing in mind the 'popup' time; even vehicles or portoloos etc. will count towards your allowance.
The 28-day rule does not enforce your use of land to run in consecutive days. This is a notable convenience for some glamping site owners as it allows the ability to cherry pick the busiest times to setup and open for business. Examples include opening for certain periods of the busiest summer dates whilst still allowing leeway for shorter calendar events such as bank holiday weekends, national holidays or the festive period.
You should bear in mind that the land must be returned entirely to its original condition, which would lead to difficulties if your glamping units are brick-and-mortar structures.
If your glamping site development is planned on a piece of land within the curtilage of a building, then the 28-day rule will not apply. In England & Wales this policy is being overlooked providing the building is not listed or classed as a scheduled monument. Looking to the long-term, if you begin construction in defiance of the original guidelines it will more than likely lead to legislative headaches further down the line.
The 56
Day Rule (England & Wales)
In England and Wales, the 28-day rule has been extended to the 56-day rule in a strive by the government to bolster investment in tourism whilst lending a helping hand to struggling businesses impacted by the pandemic.
In In some rare cases, there is potential to run multiple 56-day rulings with different planning units on the same plot of land. Usually, one land area under one ownership is considered a single planning unit and hence one 56-day period. However, if the plot area is separated by areas of non-owned land (public structures/paths/roads/parks etc.) you may convince a council to treat your scope as separate planning units. This is more common in instances of huge plots or estates where different uses already exist on the land or the estate is spread across multiple designations.
Even though you can technically open for 56 days without planning permission, you may still require a site license if you are operating for more than 42 consecutive days. You should check with your local authority if this is the case. Many glamping units fall under the legal definition of a caravan and will likely need a caravan site license to legally operate between 42-56 days:
'"caravan" means any structure designed or adapted for human habitation which is capable of being moved from one place to another (whether by being towed, or by being transported on a motor vehicle or trailer) and any motor vehicle so designed or adapted, but does not include...any tent'
Some councils in Scotland are temporarily allowing caravans and motorhomes to be sited without planning permission, however a site license would still be required, making this a moot point with regards to setting up glamping sites. There is an exception to the rule however, allowing you to site up to three units on over 5 acres of land without a license.
There has been political and legal pressure to extend the 56-day rule to run longer but this hasn't been accepted into any legislation yet and, with us well underway navigating back to normal life, is unlikely to take place. More so, the general understanding is that the 56-day rule will revert back to 28 days once lockdown restrictions are fully eased. There is no way to put a definitive timescale on this until such stage we receive further government guidance.
Relaxed 28 Day Rule (Scotland & Northern Ireland)
Although neither Scotland or Northern Ireland have implemented a concrete policy change to relax land use regulation without planning permission, the (still in place) 28-day rule is relaxed in cases where it allows businesses to diversify or change the way they operate. In light of fledgling companies scraping through lockdown with little financial relief, this change of tact provides a cushion against the loss of business caused by COVID-19.
The Scottish government line is that they will 'not take enforcement against acceptable planning breaches that will allow for businesses to operate and for some normality to return to life within our communities'.
- Chief Planner letter: stakeholder update - March 2021
The recent policy change acts as a sort of handshake contract for any type of leisure or hospitality business. In the short-term it may be worth taking advantage, but vague direction for authorities' involvement is sure to put many glamping site owners and wider businesses in a state of unease. We would not recommend using this relaxation of rules as a basis for your planned glamping business or site.
Authorities have been advised to react proportionally to suspected breaches of planning control.
Although this will undoubtedly suit certain types of business (think restaurants, bars and cafes allowed to expand to 'popup' outdoor dining areas), long-term business ventures should tread with caution. There is too much uncertainty surrounding which 'temporary breaches of planning control' will be looked upon favourably, without any guarantees either way.
Certain types of unit (mainly tents) may have an argument to operate for longer than the 28 days due to legislation in Scotland protecting 'wild camping', though you will face challenges if any construction is undertaken on the land (regardless if it falls under operational development).
This is only applicable to large plots of privately-owned countryside and it is unlikely you would be allowed to lease the units as part of a business.
If you believe your site can benefit from wild camping rights, you should consult your local council for further advice.
Exceptions
The 28-day rule, 56-day rule and associated guidelines fall under governmental legislation known as permitted development rights. It is important to understand that planning law on the same is restricted for certain areas such as national parks, conservation areas, areas of outstanding natural beauty (ONBs), world heritage sites, greenbelt areas and the Norfolk & Suffolk Broads. If your development falls under any of these categories, we strongly recommend consulting an expert or engaging directly with your council to ascertain what is allowed.
Summary
In this article we looked at the restrictions imposed to starting a glamping site or business without having planning permission. The obstacles are shown to relate to the amount of time you can have your site open, the scale and scope of construction works with particular reference to the installation of services or groundworks classed as operational development, changing the use of land and using temporary/moveable glamping units.
Discussion concludes the few instances where you can operate a glamping site without planning permission pertain to a single glamping unit as part of a home for personal use or a seasonal glamping site which can be put up and taken down easily with no detriment or lasting alteration to the land on which it is sited.
We had a look at the changes in planning legislation brought about by the COVID-19 pandemic and resultant lockdown. We can draw from this an opportunity to open a short-term glamping site with a little more freedom, the details of which differ between countries within the UK. However, the relaxation of planning law offers little incentive to long-term or permanent glamping site owners.
If you would like any further advice on setting temporary glamping sites or determining if your glamping site idea is feasible, please get in touch for a free consultation.