Starting a Glamping Business In the UK? - Everything You Need To Know (2022 Edition)
Created by Calum Published on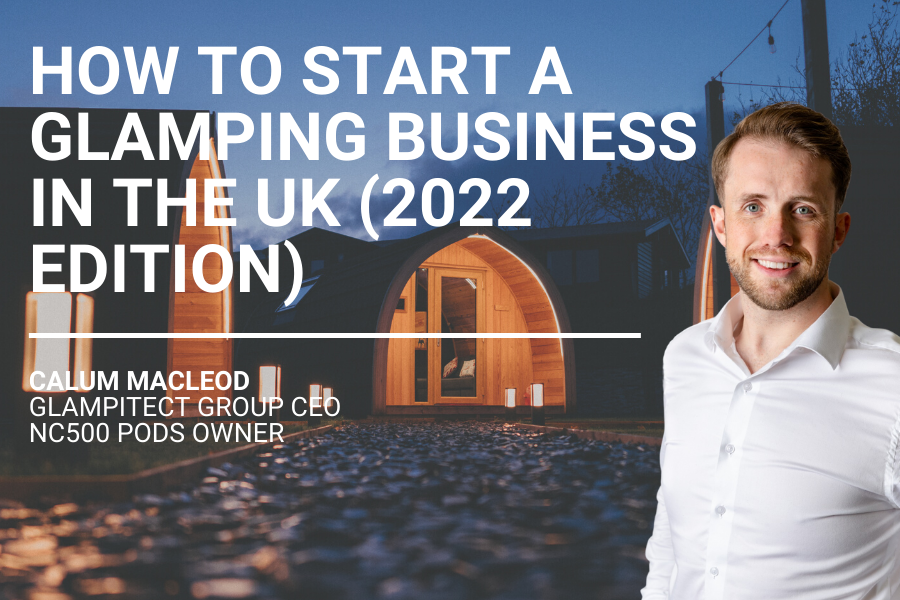 Here it is. Everything you need to know about starting a glamping business in the UK in 2022 (if you're in the US or Canada, check out our guide on how to start a glamping business in North America).
Got questions about glamping planning permission? We've got you covered. Curious about the financial side of starting a glamping business? Read on. Need help with setting up your glamping business online? It's all contained within this guide.
Buckle up and get ready. This might just be the guide that makes you the owner of a successful glamping business.
What Is Glamping?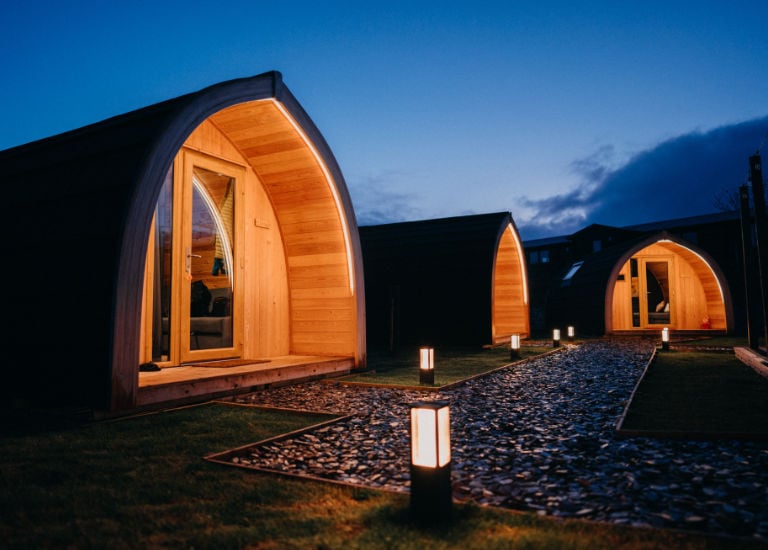 Glamping, in its most literal form, means 'glamorous camping'. That's a very vague definition, though, so let's dig into what it actually means.
Defining glamping is a controversial issue. Some argue that glamping is limited to temporary structures, such as tents and yurts.
We disagree. Strongly.
To us, glamping is anything that allows guests to experience nature while retaining a sense of luxury that you don't get with traditional camping. Of course, bell tents can provide that. But so too can glamping pods, shepherd huts, and even cabins and lodges. Language evolves, and glamping evolves with it.
But ultimately, it's up to you to define what glamping means to you and your guests.
How Much Does It Cost to Start a Glamping Business?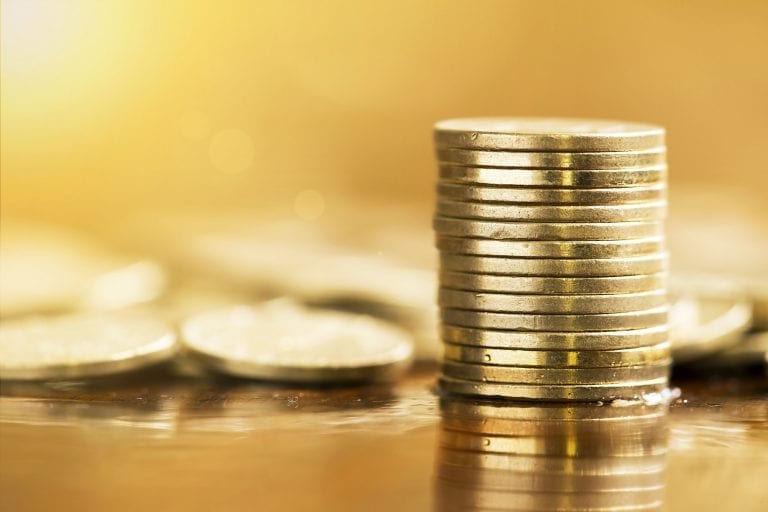 The great thing about the glamping business compared to other property investments is that the capital requirements are pretty small. If you already own land, the major investment will be in your glamping units, which can range from less than £1,000 if you're buying tents to £40,000+ if you're buying high-end shepherd huts.
Other costs associated with starting a glamping business include:
Land purchase/lease
Groundworks
Utility connections, e.g. water, electricity, drainage
Improvements to access roads and parking
Landscaping and planting
Unique selling points, e.g. hot tubs
Online setup
These costs vary significantly from project to project (for reference, our 4-pod NC500 Pods site in Achmelvich cost £180,000 in total), but a good starting point is to speak to local contractors to get quotes for the work you'll require. Or you can commission a glamping feasibility study, which incorporates all of the above costs into a set of detailed financial projections.
With so many costs to account for, money can be a barrier that prevents people's glamping dreams from coming true. But don't worry - help is available. There are ways of funding your glamping project, through business loans, external investors and glamping unit financing. Check out our blog on financing glamping pods.
Of course, to obtain funding for your glamping business, you'll need to write a bespoke glamping business plan. Thankfully, we've written a handy guide on how to write a business plan for a glamping business.
To see a breakdown of glamping startup costs with real-life figures, see our explanation of how profitable glamping businesses can be.
How Much Money do Glamping Businesses Make?
Profitability is most people's biggest concern when it comes to starting a glamping business Again, this is something that varies significantly from project to project. However, it's not too difficult to come up with some rough figures if you set some time aside to run some numbers.
To estimate your glamping site profitability, you need to figure out your revenue and costs. There are three basic factors that determine your glamping site revenue:
Number of units
Nightly rate - how much you charge per night
Occupancy rate - the percentage of nights you're booked vs total available nights
Let's say you want to site 5 glamping pods on your land. Using our golden rule for setting a nightly rate, you discover that the average nightly rate for glamping sites in your area is £120. Because you plan to include a hot tub with each pod, you think you can charge more than the competition, so you decide on a nightly rate of £140 for your glamping business.
It's hard to predict an occupancy rate, so you play with some figures to see how much money your glamping business can make at various occupancy rates:
At a 50% occupancy rate, you'd make £127,750 in revenue (£140 x 5 pods x 365 days x 0.5).
At a 60% occupancy rate, you'd make £153,300 in revenue (£140 x 5 pods x 365 days x 0.6).
At a 70% occupancy rate, you'd make £178,850 in revenue (£140 x 5 pods x 365 days x 0.7).
You get the picture.
Then, you need to factor in operating costs. These include:
Energy bills
Cleaning and laundry
Consumables
Maintenance
Marketing
Insurance
The costs are generally pretty low for small-scale glamping businesses, which means glamping site owners can enjoy great margins and big profits. However, the only way to truly understand your operating costs is by commissioning a bespoke feasibility study.
Choosing Your Glamping Units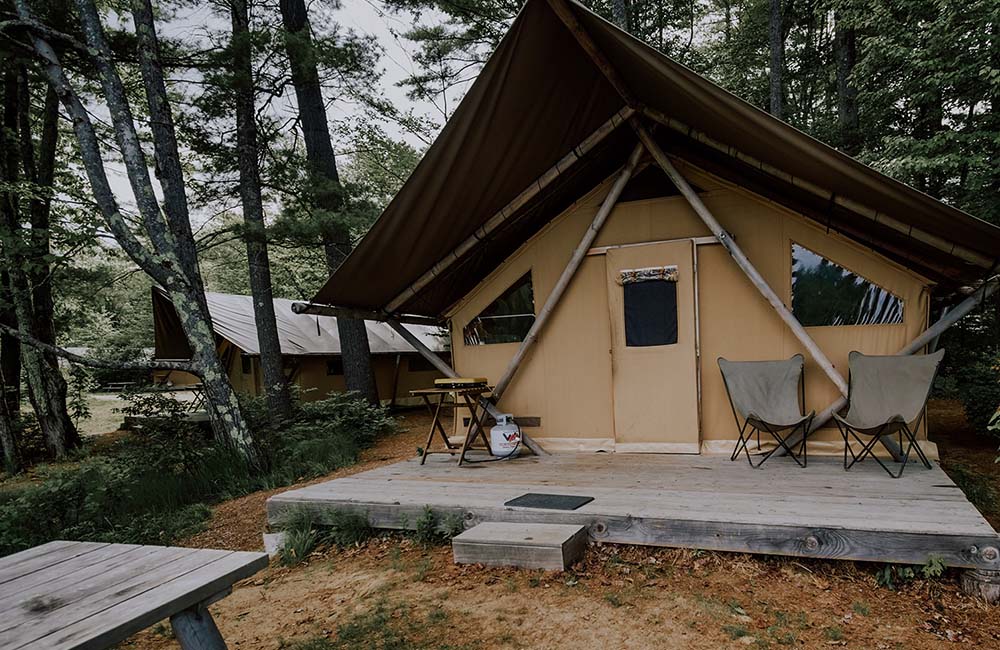 We established earlier that glamping can encompass many different unit types, including:
Bell tents
Safari tents
Yurts
Glamping domes
Glamping pods
Shepherd huts
Treehouses
There are plenty of manufacturers in the industry that you can buy these units from. For example, Timber Builds make excellent glamping pods, while Trudomes and FDomes make world-renowned glamping domes. If you're undecided on which unit or manufacturer to choose, tools like Glamcompare can help you make a decision too.
There's no single best glamping unit for all projects. What's right for your glamping business depends on what's available in your area, the experience you want to create, the demographic you're aiming for, and more. To help you decide, we've written a full breakdown of the different types of glamping unit and which ones may be right for your project.
Acquiring Planning Permission for Your Glamping Business
Planning permission is the biggest stumbling block when it comes to starting a glamping business in the UK. It's where lots of glamping dreams die. It's so important you get this aspect of starting a glamping business right, which is why this section will be fairly lengthy.
Do You Need Planning Permission When Starting a Glamping Business?
To make things easier, we'll break it down by unit type.
Do you need planning permission for bell tents? Yes, if you want to operate for longer than 28 days.
Do you need planning permission for safari tents? Yes, if you want to operate for longer than 28 days.
Do you need planning permission for yurts? Yes, if you want to operate for longer than 28 days.
Do you need planning permission for glamping pods? Yes, full stop.
Do you need planning permission for glamping domes? Yes, if you want to operate for longer than 28 days.
Do you need planning permission for shepherd huts? Yes, if you want to operate for longer than 28 days.
The eagle-eyed amongst you will have noticed there's a common theme to the answers above. Almost everything needs planning permission if you want to operate for longer than 28 days.
Why 28 days? There's something called the 28-day rule, which allows landowners to set up a popup glamping site for 28 days without planning permission. There are strict rules for this, though. The units must be temporary and your development can't have any impact on the ground. For example, you can't install a drainage system for your guests' waste, meaning you're restricted to composting toilets. Not exactly the luxury end of the market.
Anything longer than 28 days, or any site that wants to use a more upmarket system than composting toilets, must apply for planning permission for their glamping business.
How Do I Get Planning Permission for My Glamping Business?
To legally be allowed to start your glamping business, you need to submit a planning application to your local council.
A good planning application will include:
Site layout drawing
Location plan
Design and access statement
Technical drawings
Market research statement
Road/parking plan drawing
Drainage plan
Access drawing
As you can probably guess, this isn't something that can be pulled together in two minutes. The planning application stage is the most time-consuming, stressful part of starting a glamping business. It's so important that you get it right. A shoddy application is likely to be rejected by your council, which will send you back to the drawing board and likely spell the end of your glamping dreams.
After submitting your application, the council will review your proposal and consult with public bodies, such as the highways agency or environment agency. After receiving advice, they'll either refuse your application, invite you to withdraw and resubmit, or give you the green light to start your glamping business.
Top Tips for Acquiring Planning Permission When Starting a Glamping Business
Consider a Pre-Planning Application
A glamping pre-planning application is where you submit a general idea of what your project will look like to your council. Instead of approving or refusing the development, they'll tell you how likely you are to be approved if you were to make a full application, and possibly give you advice on what you might need to change to improve your chances of approval.
Be warned, however, that not all pre-application feedback is created equal. Some councils will send you a detailed, highly valuable response, whereas others will give you minimal feedback. We've written a guide on everything you need to know about the glamping pre-planning application to help you decide whether it's worth it.
You might be better off commissioning a Glampitect Feasibility Study, which will analyse your council's policy and previous decisions in depth to give you an excellent idea of your likelihood of acquiring planning permission.
Make Sure Your Glamping Site Is Designed Appropriately for Its Surroundings
No council wants to approve an eyesore of a glamping site. It will detract from the beauty of their local area, and it will cause anger in the community.
The first principle of designing a glamping site is ensuring it has minimal visual impact on the landscape. This can be done by putting your glamping units behind trees and not building on high points.
Ensure Your Access Is Sufficient
Planners don't like it when guests have to travel down narrow, bumpy paths to access your glamping site. You need to ensure your site is easily accessible by car, and that may mean forming a new access route (which itself will need to be included in the planning application).
The highways agency may also advise the council to refuse your application if your site is likely to increase traffic and you don't propose any mitigation measures.
Think Sustainably
Planners don't expect your glamping site to be solar-powered and carbon neutral. Not yet, anyway.
But pretty much every council will have a section in their local development plan on sustainability. A common sustainability requirement is that your site must be easily accessible by means other than car transport. The closer you are to bus stops, cycle routes and public footpaths, the better you rate with this metric. The further away you are from settlements, the more important these factors become.
If you're looking for more advice on how to get planning permission for your glamping business, we've written an in-depth guide to acquiring glamping planning permission.
Beating the Competition
Competition is a natural part of any business, and glamping is no exception. With glamping becoming more and more popular in recent years, glamping sites are popping up all across the UK. It's no longer good enough to put a few glamping pods on your land and hope for the best. You have to be unique.
That's where unique selling points, or USPs, come in. These are aspects of your glamping business that set you apart from the competition. If no glamping site in your area has hot tubs, then a great USP would be to have a hot tub for each glamping pod on your site. If all of the sites in your area are family-friendly, it might be an idea to create a couples-only escape.
Here are some USP ideas to get you thinking:
Hot tubs
Barrel saunas
Farm tours
Fruit picking
Yoga sessions
Outdoor cinema
Finding the right USP for your site involves a lot of research and creativity, but it will pay off in the long run. It's what ensures your business will enjoy bookings for years to come, rather than enjoying fleeting popularity before falling victim to saturation.
Simply put, it should take you mere seconds to answer the question, "What makes your glamping site different?".
Online Setup
In 2022, any glamping site that relies on over-the-phone bookings will struggle to survive. It's vital you establish a strong online presence, which requires four components:
Your own website, with an in-built booking facility
Online travel agencies (OTAs)
Channel manager
Effective marketing
Your Own Website
We always recommend that glamping businesses have their own website. For one, it makes you much easier to find. It also gives you the chance to show off your site and its best features.
Merely having an attractive website isn't going to cut it, however. You need an in-built booking facility to ensure your website visitors become paying guests. If guests can't book their stays directly on your website, they probably won't bother to look for you on Airbnb.
Being able to book directly on your website will also save you money in the long run. OTAs like Airbnb and Booking.com are great for extending your reach, but they cost you money in the form of commissions. This isn't a major issue to start with, as your first priority should be extending your reach as widely as possible. But once you have a solid customer base, a reliance on external booking sites will eat away at your profits. You should aim for your website to generate as close to 100% of your bookings as possible once you become established.
OTAs
Despite what we just said, you absolutely should use sites like Airbnb and Booking.com in the early days of your glamping business. Without them, you may struggle to generate enough bookings, as not many people will be specifically searching for your website.
It's once you start welcoming guests that you should really try to reduce your reliance on OTAs. Make sure you ask your guests that book through OTAs to book directly through your website for their next stay. Paying small commissions here and there to Airbnb might not seem like much, but it really does add up.
Channel Manager
So, you've built an attractive website with an in-built booking facility and you're listed with all the major OTAs. How do you ensure you don't get double booked?
Introducing the channel manager.
A channel manager will connect and sync all of your booking calendars into one database. So, if someone books through Airbnb for the 25th August, the channel manager will block that date out from all of our booking calendars. Smart, isn't it?
Glampitect can help you with all aspects of website and channel manager setup. Book a consultation and we'll guide you through the process.
Effective Marketing
Good marketing is the key to a successful glamping business. Without it, nobody will know who you are, and your site (and pockets) will be empty.
Facebook and Instagram are both great tools for generating bookings, but you have to use them effectively. Make sure you post high-quality photos and videos to showcase your site, and remember that engagement is important for growing your following. Running competitions and giveaways has resulted in our NC500 Pods sites enjoying more than 70,000 social media followers. Crucially, this has translated to bookings, and therefore revenue.
What Now?
Book a free consultation with one of our in-house experts through this link. Once you've told us about your glamping plans, we'll guide you through the process of starting your glamping business, one step at a time.