How to Start a Glamping Business - The Ultimate Guide (North American Edition)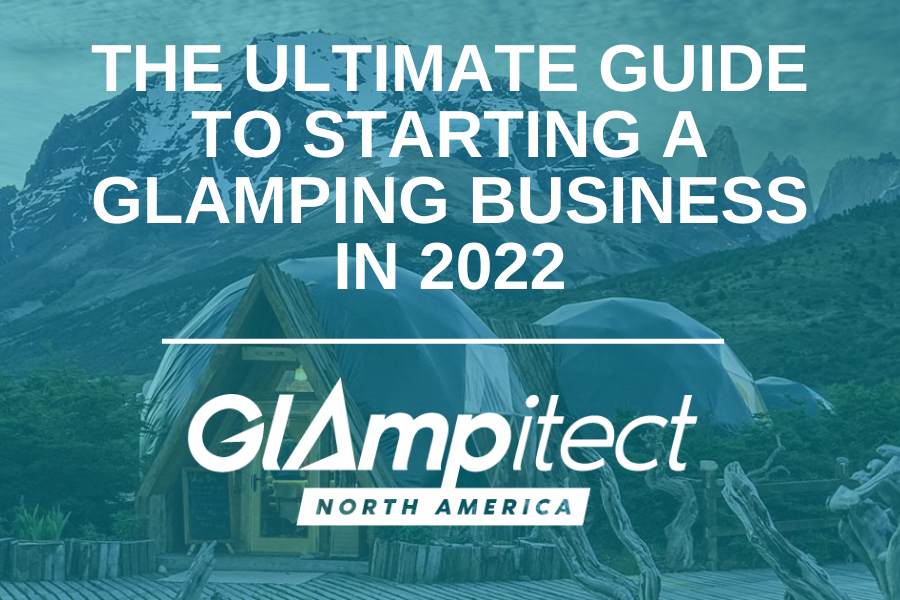 Your decision to read this guide today might just make you millions of dollars.
A bold claim, we know. But trust us on this one.
What you're about to read is the cumulation of years of wisdom. Wisdom born out of opening two glamping sites of our own. Out of setting up another 20+ for our clients. Out of learning from inevitable mistakes along the way.
In a nutshell, we know glamping. And starting glamping businesses is our bread and butter.
Anyway, back to the bit about making you millions of dollars. It might seem crazy, but the glamping business can really be that lucrative. We'll break it down later on in this guide.
But, to make millions, you can't half-ass things. You have to be prepared to put in the work, or at least pay experts like Glampitect North America to do it for you. The sheer length of this guide proves how long and complicated the process can be, so if you think this is going to be a breeze then we'd suggest finding another investment opportunity.
We recommend taking our 2-minute, "Do You Have What It Takes to Start a Glamping Business?" assessment before reading this guide, as it will identify your blind spots and tell you which sections of the guide you need to focus on.
Done that? Buckle up, folks. This is going to be a long, but hugely valuable, read. Sit comfortably, get a pen and paper ready, and make this your bible. We're going to teach you how to start a glamping business in North America.
Note: If you've got a short attention span, you can download our smaller Glamping Site Setup Handbook.
Contents:
Section 1 - Before You Start Start Your Glamping Business
What Is Glamping?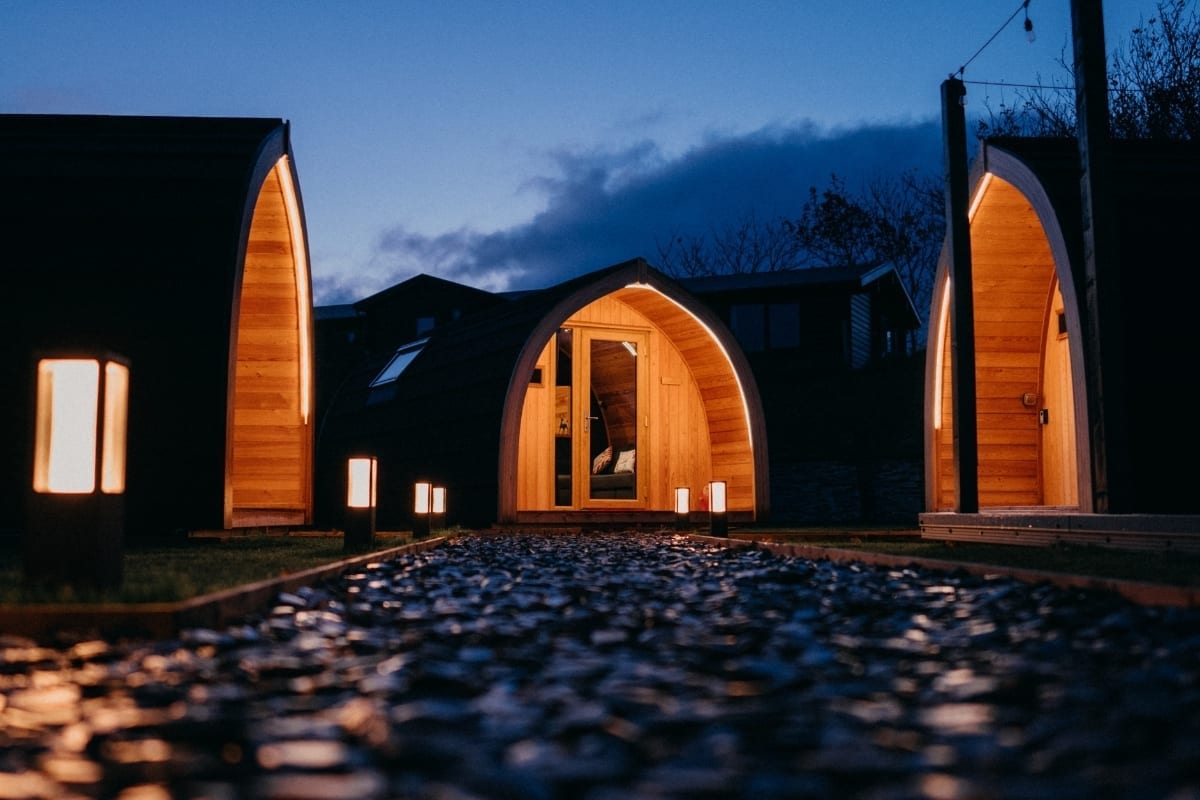 The fact that you're reading this lengthy guide suggests you're at least semi-serious about starting a glamping business, so we won't dwell too long on this topic. If you want to skip this part, you can click here. But, as glamping is such a new concept, it's always helpful to clarify exactly what we mean by the term.
Glamping is a combination of two words: "glamorous" and "camping". Thus, glamping offers the outdoor experience that traditional camping provides, while incorporating elements of luxury. The definition of luxury in this context varies hugely, from merely not having to pitch your own tent, all the way to having the facilities you'd expect in a 7-star hotel.
Some purists argue that the term "glamping" should be restricted to temporary, moveable structures only, i.e. tents.
We disagree.
We think glamping can be anything that connects you to nature while retaining a sense of luxury. Of course, glamping tents fall under this category, but so too do yurts, domes, pods, cabins, treehouses and more. It's up to you to define what glamping means to you. That's the beauty of it.
Now, onto the useful stuff.
How Much Does It Cost to Start a Glamping Business In North America?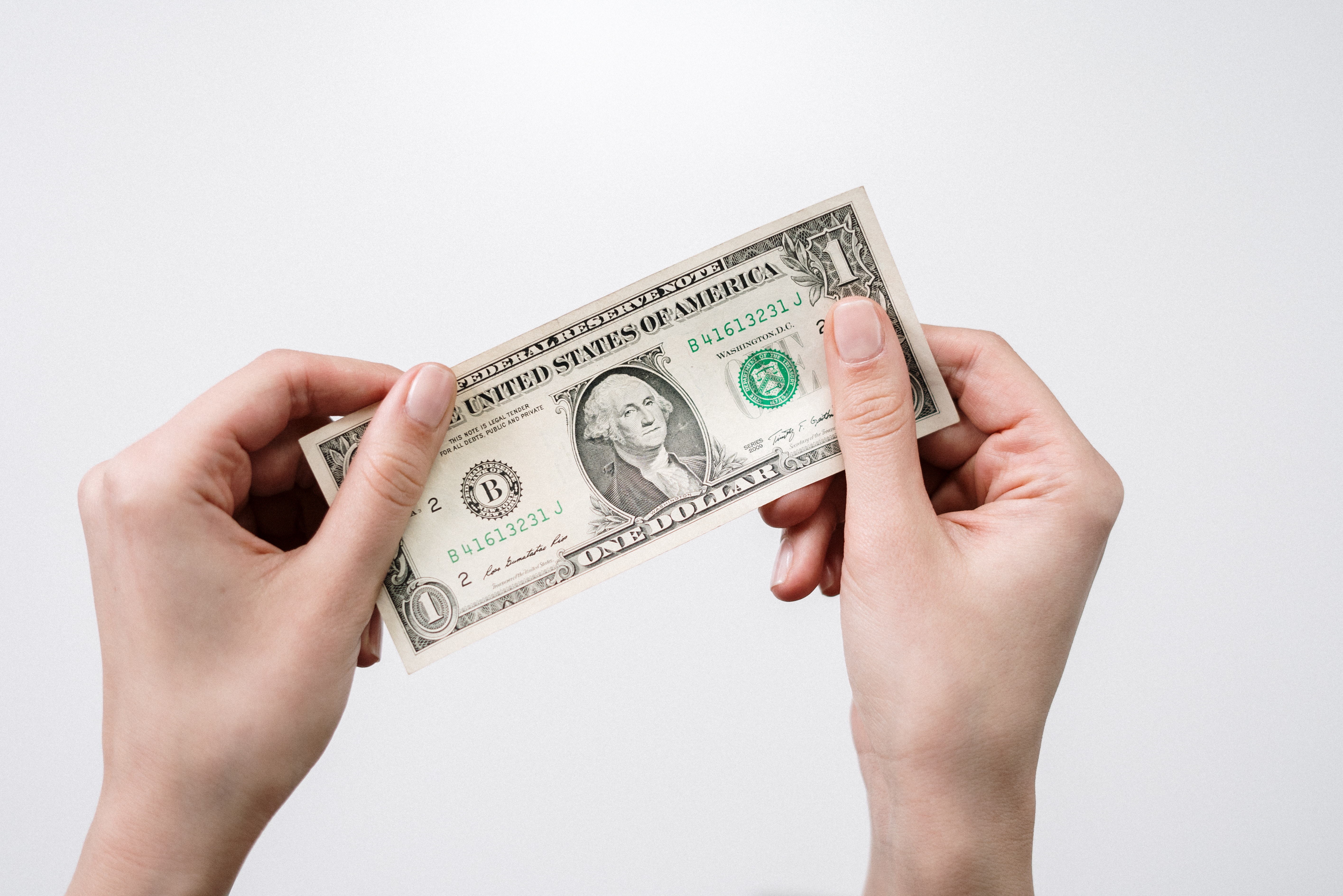 Glamping business startup costs are completely dependent on project size. If you don't already own land to build your glamping business on, the land purchase is obviously going to be a big outlay. The cost of the glamping structures also make up a significant proportion of total costs, particularly if you go for more permanent structures such as pods and cabins.
Here's what you'll typically have to budget for:
Land acquisition
Land surveys, e.g. drainage studies, wildlife surveys (these are particularly common on raw land)
Permit application fees
Consultants' fees
Groundworks
Construction of new roads and tracks
Parking lot construction
Installation and upgrade of services, i.e. water and electricity
Additional site features, such as communal fire pits
Insurance
Website development
It's a lot to consider, huh? Don't worry, it's daunting to everyone at first. You'll get through it.
One thing that helps get all your glamping startup costs in order is a feasibility study. This breaks down all the costs associated with starting a glamping business in North America, allowing you to set a budget or a funding target. It also provides you with an attainable nightly rate and tells you how much money your idea is likely to make in the short, medium and long term.
If you're more of a do-it-yourself type of person, you can gauge how much it will cost to start your glamping business the old-fashioned way. Think of your ideal glamping site and start calling contractors to get quotes for each of the inputs above. After adding it all up, you won't be right to the nearest cent, but you'll gain a rough idea of how much you'll need to build your glamping site.
Glamping Profitability - How Much Money Can You Make From Operating a Glamping Business In North America?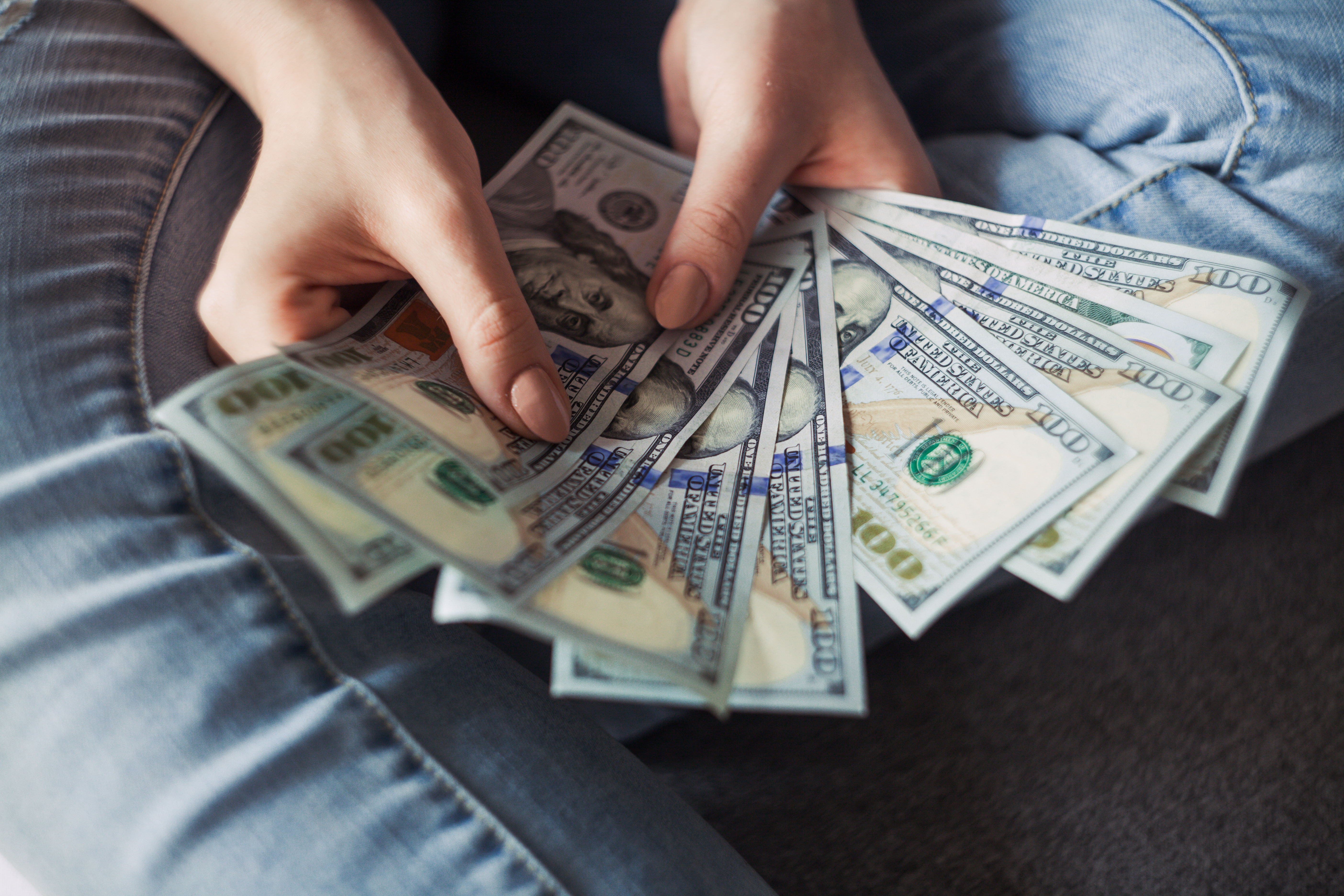 An article on how to start a glamping business would be useless if it didn't mention the money that can be made from glamping. It can be a fun industry to get into, but is glamping profitable?
Glamping can be a hugely lucrative business if you do it right. We know, as owners of two glamping sites ourselves.
It's not too difficult to run some numbers to see how profitable your glamping idea could turn out to be. You just need to figure out how many glamping structures you're going to have on your site, how much you're going to charge per night (by following our golden rule for setting a nightly rate) and how full your site is going to be.
Of course, whether your site is full or not is out of your control to a degree. But you can play around with different figures to estimate your revenue by running the following formula:
Number of units X Average nightly rate X Days open per year X Occupancy rate
So, if you want a 10-yurt glamping site that's open all year round, you can do the math. Let's assume a very-much-achievable nightly rate of $200 and a conservative 50% occupancy rate.
10 X 200 X 365 X 0.5 = 365,000
$365,000 of revenue from just 10 yurts. And that's assuming a fairly low occupancy rate of 50%. Bump it up to 75% and you're turning over more than half a million each year!
Your operating costs will obviously need to be factored in, and these are harder to estimate quickly as they vary so widely. To ascertain how much it's going to cost for you to run your glamping business, we'd recommend a glamping feasibility study, which will give you bespoke financial projections for your project.
Glamping Site Financing - Attracting Funding For Your Glamping Business
If you've got a ton of cash already, great! Click here to skip this part.
For those who aren't so lucky, here are your options when it comes to financing your glamping business in the US or Canada:
Bank loan - Bank loans are generally the most straightforward way of funding a glamping business, but we find most banks are reluctant to lend money for a business as niche as glamping.
External investment - Equity or debt financing through investors is a great option, but you'll be competing with lots of other businesses, so your pitch needs to be special to stand a chance. Your financial modelling will have to be watertight, and you'll have to convince seasoned investors that your proposal will generate strong returns for them. A

glamping feasibility study

will help you do this.
Glamping unit financing - A less glamorous but effective option can be financing individual glamping units through finance leases and hire purchases. This allows you to pay for your units over time, by which point the money you make from them should exceed the payments. The drawback is that you're unlikely to get 100% of the value of your units financed with this method, and it's not going to help you buy land.
Crowdfunding - This is a rogue option and the least likely to work, but it's worth considering. Your proposal will have to be truly special to stand any kind of chance.
Glampitect North America have teamed up with a variety of glamping business financing partners who can fund your glamping project. Book a free consultation with us to explore your options.
Section 2 - How to Start a Glamping Business In North America
This part is where you really need to know your weak spots so you know what to focus on. Take our quick assessment to find out where your knowledge is lacking, then pay extra attention to the topics you scored poorly on.
Starting a Glamping Business In the US or Canada - What's Involved?
Every glamping project has different requirements, to the extent that it would be impossible to cover every possible eventuality, but there are stages common to every glamping site setup journey. These are:
*Click any of the links above to skip to the relevant section*
Acquiring Land
If you don't already own land for glamping, you're obviously going to need to find some before starting a glamping business. Be careful, though. Rushing into buying the first nice property you see is a terrible idea for multiple reasons.
We're not going to pretend to be real estate experts, so we won't go into great depth here. Just make sure you do the following things before committing to a purchase/lease:
Check the property has the right

zoning for glamping

. More on this below.
Make sure there aren't any covenants or easements on the property. Shared rights of way can create huge issues.
Make sure the property doesn't belong to a homeowners' association. These can be nightmares for business owners, as they can control so many aspects of the property.
Read our complete guide to buying land for glamping

.
Checking Your Zoning
The first thing you should do when starting a glamping business in North America is to check your zoning. Failing to do so could lead to you wasting a ton of money. To explain why, we'll briefly introduce the zoning system itself.
What Is Zoning?
Throughout the USA and Canada, every parcel of land (with certain exceptions) is divided into 'zones' by city and county governments. Each city/county lists the uses that are permitted within each zone in a set of rules called zoning ordinances (or zoning codes). These permitted uses are the types of developments and activities that are legally allowed on the land.
For example, the permitted uses in residential zones are generally housing related, and they don't usually allow for glamping-style developments. Planning consultant of 17 years, Nick Labadie, explains it all in the video below.
*Note: Some places, such as Houston, don't have zoning codes. This makes things slightly easier, but it's far from a case of building whatever you want, wherever you want. You'll still likely need to acquire some form of approval to build a glamping site on unzoned land.*
Why Is Zoning Important When Starting a Glamping Business In the USA and Canada?
How your land is zoned determines whether you can build a glamping site on the property or not. If you have the wrong zoning, it's very unlikely that your city or county will allow your glamping project to proceed.
If you don't check your zoning before beginning the process of starting your glamping business, you risk wasting hundreds of thousands of dollars on a project that was doomed to begin with. And even if your zoning is right for glamping, failing to do the basic research on your county's zoning ordinances will make you far less likely to get a permit anyway. We detail it all out in our guide to checking your zoning for glamping, which features a real-life case study in Ventura County, California.
How Do I Know if I Have the Right Zoning for a Glamping Site?
We've got you covered. We've written a step-by-step walkthrough on how to check if your zoning is right for glamping, and it's completely free. We can't stress enough how important this stage of the process is, so make sure you read it from cover to cover.
If you don't feel like reading a complete walkthrough, Glampitect North America can produce a zoning report for you. This analyzes your zoning ordinances and tells you whether you'll be able to build a glamping site on your property. There are a whole load of other benefits to this service too, but we won't bore you with that now.
Choosing Your Glamping Structures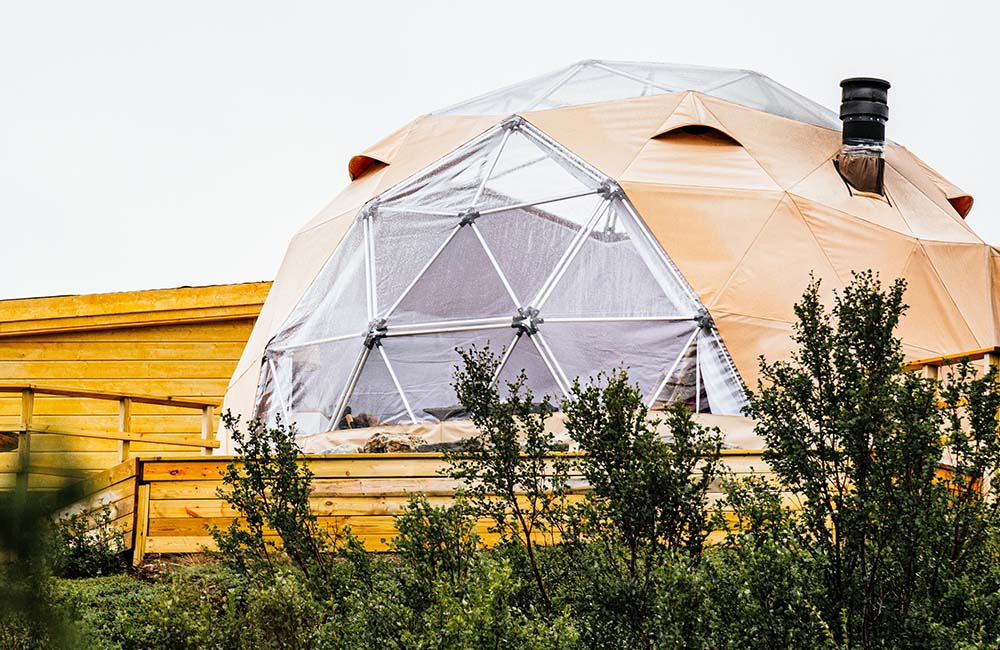 This is a fun part of starting a glamping business. Choosing your glamping units is where your site really starts to take shape. Ideally, you want the best glamping tents, domes or unique structures on the market. Here are some popular styles of glamping unit:
Bell tents - The classic choice. Simple, usually small, but the purest form of glamping.
Safari tents - Larger and more complex than bell tents, safari tents have vertical walls that give your guests extra space
Yurts - Originally used by nomadic tribes, yurts are round tents that have been converted into glamping units in recent years. Our friends at

Secret Creek

make excellent yurts for glamping.
Domes - Geodesic domes are becoming hugely popular glamping units across the world. Eye-catching yet extremely durable, they provide a great balance between appearance and longevity.

Trudomes

are an example of a renowned dome manufacturer, while another company with beautiful glamping domes for sale is EJH Distribution.
Glamping pods - These are hugely popular in the UK and are slowly making their way to North America.
How Much Do Glamping Tents, Yurts, Domes and Pods Cost?
This naturally varies depending on size, manufacturer and configuration, but here's a rough guide:
Bell tent: $400 - $2,500
Safari tent: $5,000 - $30,000
Yurt: $5,000 - $20,000
Glamping dome: $6,000 - $20,000
Glamping pod: $20,000 - $35,000
You should then factor in costs such as bedding and furniture, and any additional features like ensuite toilets and decking.
For information on the best manufacturers in the industry, check out our Glamping Structure Buying Guide.
Featured Distributor - EJH Distribution
EJH Distribution is a distributor for two world-renowned glamping manufacturers: De Waard and Tubbo. They have the most unique and varied selection of glamping structures in North America, and they're capable of meeting a multitude of building code requirements. They also offer financing on all of their products, allowing you access to high-end glamping structures, decks and interiors for just a 20% downpayment.
De Waard's flagship unit is the Big Oak (see above), but they also offer domes, tipis and all kinds of cool canvas tents. Take a look inside the Big Oak and their other structures in their virtual showroom.
Alongside De Waard's canvas structures, EJH is the exclusive North American distributor for the stunningly unique Tubbos (see below). These are glamping units like no other and are sure to be a sellout on your glampground.
Want to know more about EJH Distribution's glamping structures? Download their brochure below.
Designing Your Glamping Site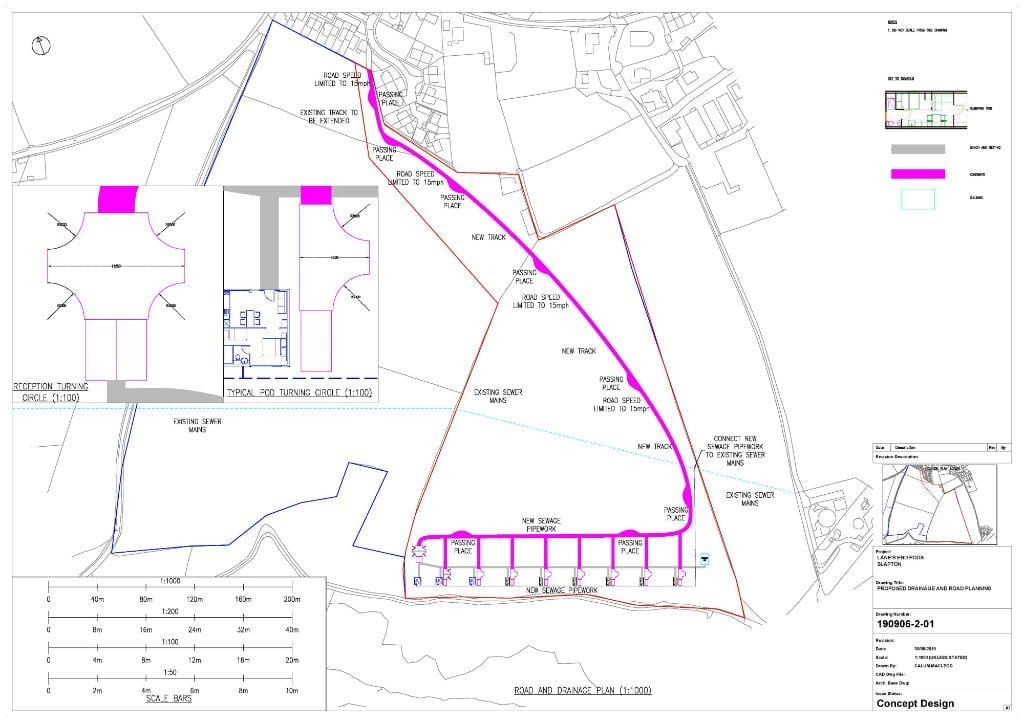 Before you can apply for your permits (more on this soon), you'll need to figure out what your glamping site will actually look like.
There are several issues you need to consider when designing a glamping site:
Volume vs seclusion - Do you want to prioritise getting as many units on the site as possible to maximise potential revenue, or do you keep numbers down to ensure each guest has maximum privacy?
Communal vs separate - Do you create communal areas for guests to meet, or do you cultivate solitude?
Idealism vs practicality - In an ideal world, your glamping units will be far from civilization. But the further you go into the wilderness, the more it costs to connect your units to power and water supplies. You might have to compromise to keep costs down.
What you want vs what the county wants - Let's say you want to build a site for millennials to let their hair down. This sounds great, but your neighbors will hate it, and they'll put pressure on your country to reject your permit application. Ask yourself whether you want to take the risk of applying for something with a higher-than-typical chance of refusal.
Looking for advice on these issues? Book a consultation with one of our experts.
Glamping Site Utilities
Unless you want to go off-grid, you need to connect your glamping structures to four things: (1) power; (2) water; (3) drainage; (4) internet.
The best route forward for each of these utilities is ultimately down to how your property is laid out and what the rules are in your state and county. For example, for drainage, you can either connect to an existing sewage network, install a septic tank or use composting/incinerator toilets. The same goes for power: you could connect your glamping structures to a local grid, install solar panels or use portable power generators.
The ideal outcome is generally to connect each of your structures to a local power/water/sewage/internet network. However, we realize that's not always possible. That's why we've written a guide to glamping utilities to present you with some alternative options.
Acquiring Glamping Permits
Once you've checked your zoning, chosen your glamping units and planned how your site will come together, it's time to enter the permitting process.
How do you know if you need a permit for your development? Your county's zoning ordinances will tell you. But as a general rule, you'll almost always need a permit (usually called a special use or conditional use permit) to start a glamping site on your land.
The permitting stage is the trickiest part of starting a glamping business in North America, as it's where you have to submit your plans to your county and convince them that a glamping site on your property is a good idea. That's easier said than done, as you'll often face strong objections from local residents with a "Not in my backyard" mindset (we call these people NIMBYs).
The requirements of the permitting process vary from county to county, but you'll usually have to submit detailed drawings and written statements for your project, covering the following topics (and more):
Site layout
Road access
Drainage
Utility provision
Build phases
Noise reduction
Traffic management
It's a long and stressful process, which is why we recommend letting Glampitect North America deal with it all for you. We won't go heavy on the sales pitch here - you know where to find us if you need us.
Getting Your Glamping Business Online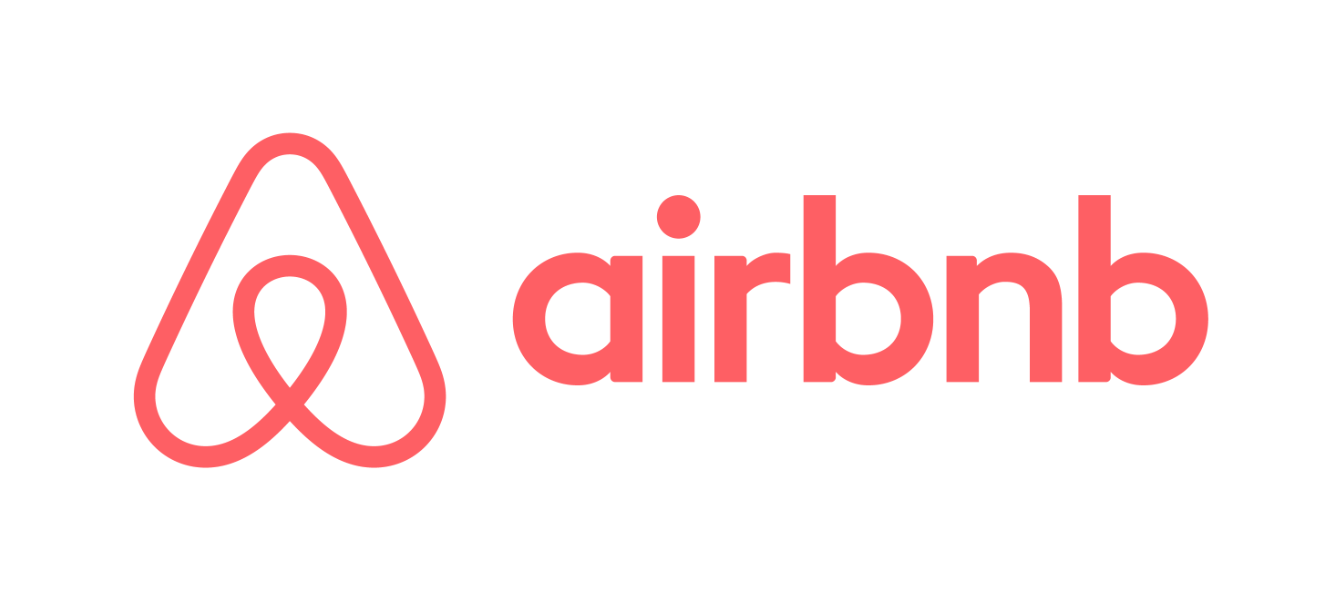 In 2022, online setup is non-negotiable for any glamping business that wants to be successful. It's where 99% of your guests will find you. But what's required to set your glamping business up online?
From day one, you should have a presence on external booking websites such as Vrbo and Airbnb. This is particularly important when you're just starting out and you don't yet have an established brand.
Even more important in the long run is having your own website that can take bookings directly. Airbnb can be great for attracting bookings initially, but it will eat into your profits over time. Our friends at Boostly can talk about this all day, and we recommend you check out their content to find out how to make your website a money maker.
Finally, you'll need to bring all your booking systems together with a channel manager. This useful little tool creates a central calendar that updates every time you get a booking, preventing any double bookings.
Marketing Your Glamping Business
It's all well and good having a wide presence on external booking sites, a website that drives bookings and a channel manager that keeps everything running smoothly, but how are people supposed to actually find you?
That's where marketing comes in.
Marketing can be the difference between a good glamping business and a great glamping business. It plays a huge role in creating a brand, and it's the most important factor in driving bookings.
But what does good marketing look like for an American glamping site?
Good marketing is marketing that drives bookings for your glamping business. That's the bottom line. Fancy marketing that generates likes and shares but has no tangible impact on your occupancy means absolutely nothing.
That doesn't mean that likes and shares are useless, however. You should try to maximise engagement on your posts, as it generally increases your connection with your audience and increases your following, which in turn results in more bookings. Just make sure it's easy for your social media followers to find your website and book their stay.
Top tip: Social media competitions are a great way to reach new audiences and generate interest in your glamping site. Getting people to like, share and tag friends in your posts, with the lucky winner receiving a free stay, is a big factor in our glamping site brand, NC500 Pods, having over 70,000 followers across Facebook and Instagram. Even more importantly, it's what's allowed us to have a consistently high occupancy rate.
Final Thoughts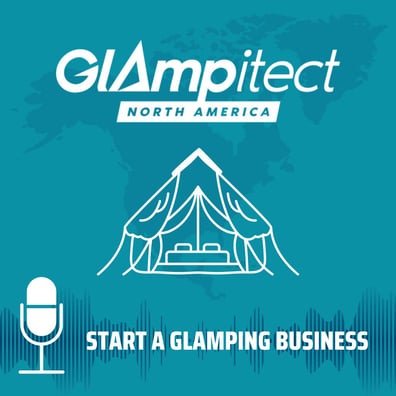 You made it! Thanks for sticking with us through this lengthy guide. We hope you come away with a better idea of how to start a glamping business in the US or Canada than when you arrived.
This should just be the start of your learning journey, though. You should be digging deeper into specific aspects of starting and operating a glamping business, and you can do that by subscribing to our "Start A Glamping Business" podcast on Apple Podcasts, Spotify and Youtube.
We also recommend our step-by-step guide to checking if your zoning is right for glamping as your next big read.
If you want to make progress on your glamping site startup today, you can book a free consultation with one of our experts. They'll listen to your plans and advise you on what your next steps should be.