Best Glamping Tents, Yurts and Domes to Buy in 2023 - The Glamping Structure Buying Guide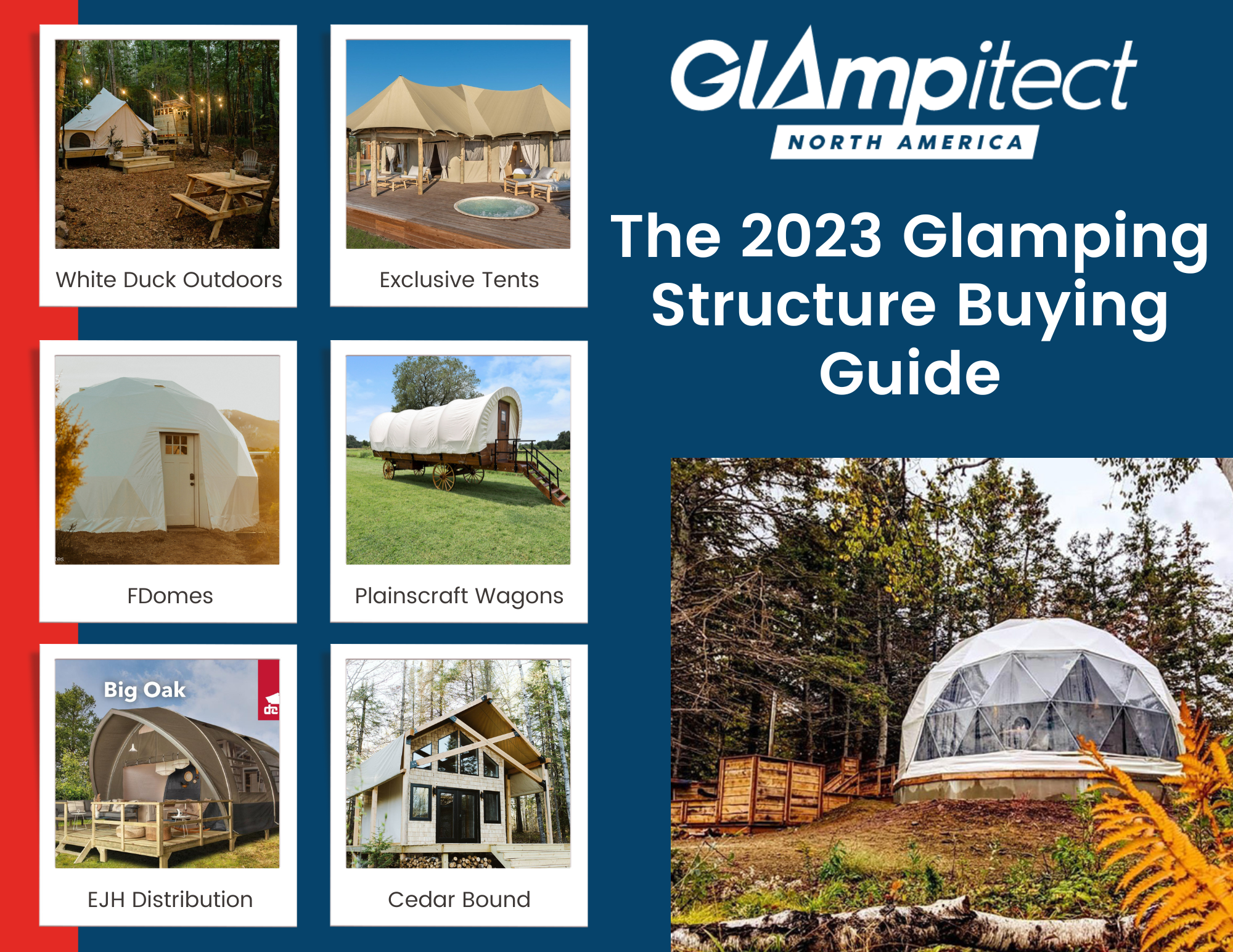 Do you want to start a glamping business but can't decide between tents yurts and domes? Or do you know which structure type you like, but you're struggling to find the right manufacturer? We've got you covered.
At Glampitect North America, we've forged relationships with the best manufacturers in the industry. This buying guide gives you the pros and cons of each type of glamping unit and the best places to buy your tents, yurts, domes, wagons and cabins. If you like any of the manufacturers covered in this guide, make sure you register your interest here, and we'll make the introductions for you.
Before We Begin
If you haven't heard of Glampitect North America before, we guide you through the process of starting a glamping business in the US and Canada. We help you buy land for glamping, navigate zoning for glamping, acquire your permits, get you funding and more. If you're interested in getting started, reserve a free consultation with us today.
What Are the Different Types of Glamping Structures?
"Glamping" doesn't have a set definition outside of its literal meaning of "glamorous camping". We believe glamping deserves a broad definition and should go beyond just glamping tents to include domes, cabins and even wagons.
So, in this glamping structure buying guide, we're going to tell you the best places to buy the following:
Bell tents
Safari tents
Other glamping tents
Yurts
Geodesic domes
Wagons
Glamping cabins
Featured Distributor - EJH Distribution
EJH Distribution is a distributor for two world-renowned glamping manufacturers: De Waard and Tubbo. They have the most unique and varied selection of glamping structures in North America, and they're capable of meeting a multitude of building code requirements. They also offer financing on all of their products, allowing you access to high-end glamping structures, decks and interiors for just a 20% downpayment.
De Waard's flagship unit is the Big Oak (see above), but they also offer domes, tipis and all kinds of cool canvas tents. Take a look inside the Big Oak and their other structures in their virtual showroom.
Alongside De Waard's canvas structures, EJH is the exclusive North American distributor for the stunningly unique Tubbos (see below). These are glamping units like no other and are sure to be a sellout on your glampground.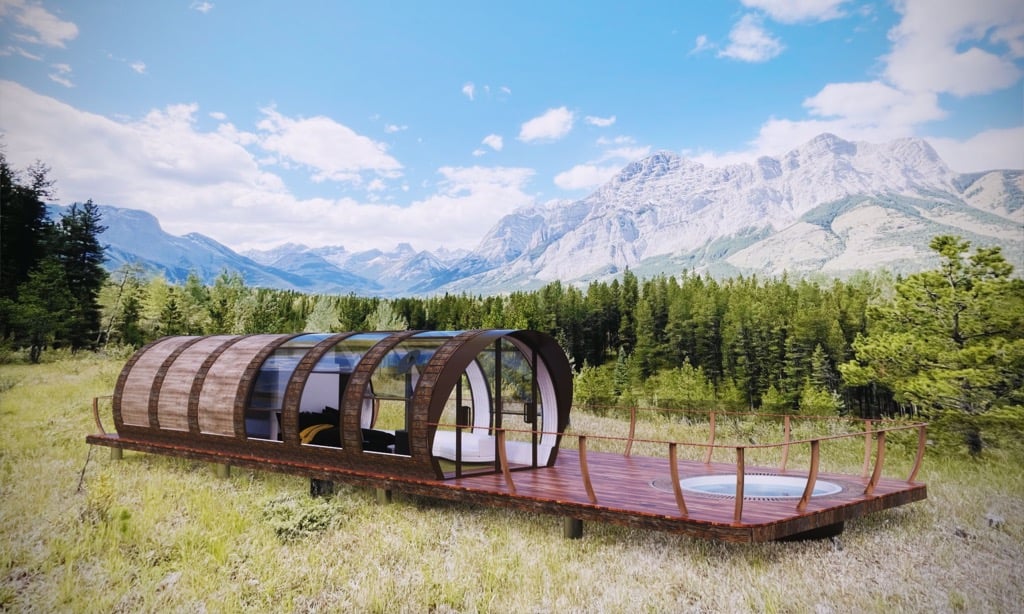 Want to know more about EJH Distribution's glamping structures? Download their brochure below.
Best Glamping Tents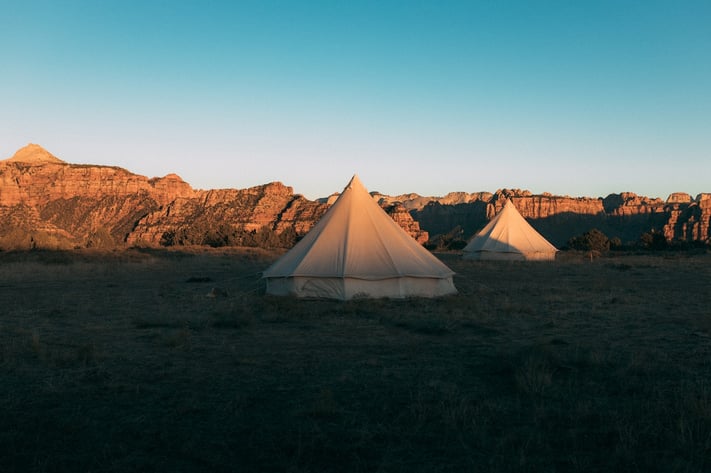 Luxury tents are a classic of the glamping genre. They're the obvious link between traditional camping and modern-day glamping, as they offer you a higher level of luxury than "pitch-your-own" camping tents while keeping you close to nature.
Glamping tents have evolved over the years. The first ones on the scene were your traditional bell tents and safari tents, but there's now a huge variety of canvas structures on the market, particularly at the higher end. This means prices can vary hugely, but tents are generally the cheapest glamping structures to buy, particularly the more basic ones. If you're low on capital, bell tents are going to be your best bet for getting your glamping business off the ground.
In terms of achievable nightly rates, buying a glamping tent will generally result in a lower average rate than, say, a dome. They're also more seasonal and usually need to be replaced more often than the more permanent glamping structures, though high-end canvas structures hold up pretty well in the winter months.
How Much do Glamping Tents Cost to Buy?
This is completely dependent on the type of tent you opt for, but here's a general idea of the price of the more traditional glamping tents:
Bell tent: $700 - $2,000
Safari tent: $8,000 - $30,000
Note: The above cost estimations are for the structures only. You'll need to incorporate the cost of decking, interior decoration and utility supply into your glamping business startup cost estimations.
Best Glamping Tent Manufacturers
Due to the popularity of canvas structures, there are lots of great glamping tent suppliers across North America. Here are some of the best one we've come across:
Best Bell Tents - White Duck Outdoors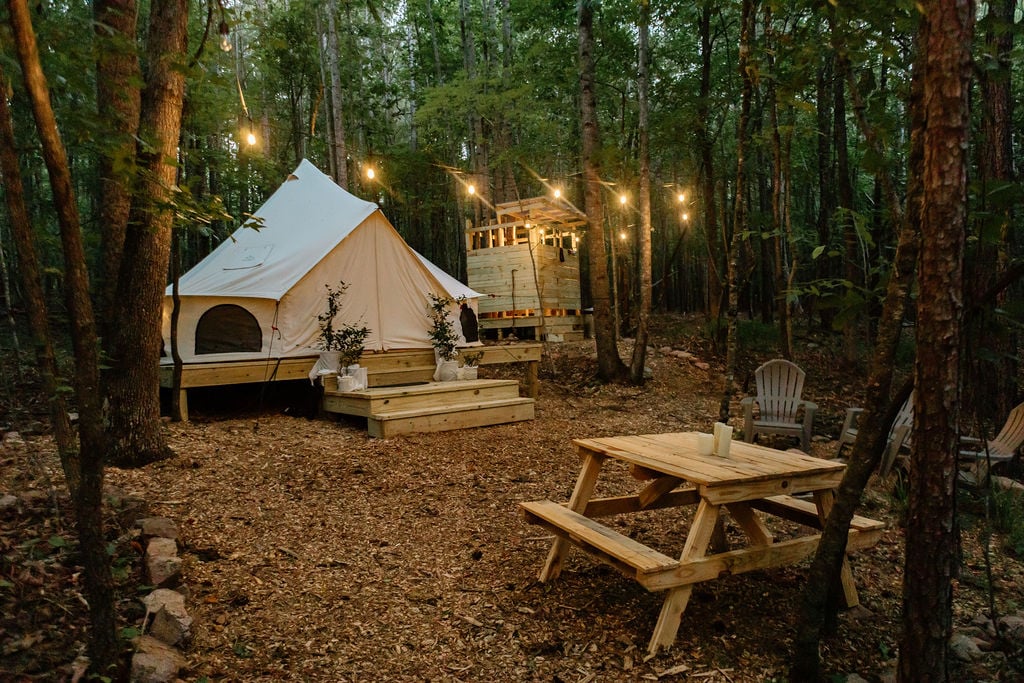 White Duck Outdoors is one of the biggest names in the North American glamping industry. They produce a range of bell tents and wall tents that are high quality at an affordable price. They're great people too - we enjoyed a couple of beers with them at the Glamping Show USA last year!
Our relationship with White Duck extends beyond late nights at bars, however. We recently co-produced a 49-page Profitable Glamping Business Playbook, covering everything you need to know about starting a glamping business in the US or Canada.
Best Safari Tents - Exclusive Tents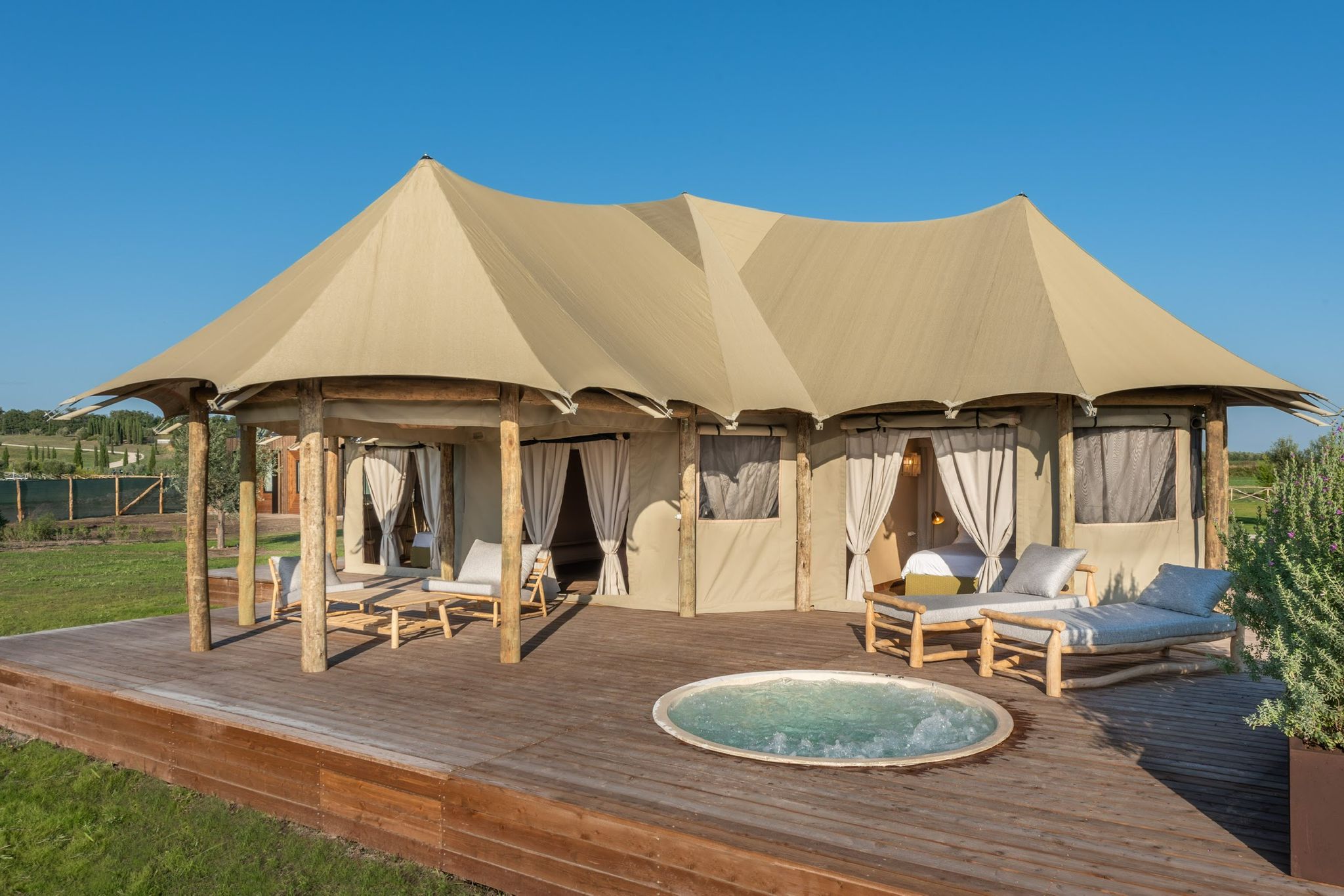 Exclusive Tents takes pride in every single stitch and cut of their structures. Designed and hand-crafted in their factory in South Africa, the team at Exclusive Tents view each of their tents as a work of art.
Founder and CEO, Paul Zway, has an amazing life story, which you can get a glimpse of in the clip below:
Best Glamping Yurts
Yurts are round, tent-like structures that have a rich history stretching far beyond glamping. They were used as dwellings by nomadic groups in Central Asia as far back as 600 BC. Whenever you stay in a yurt, you're connecting with a piece of history.
Due to their size and unique design, yurts tend to command a higher nightly rate than bell tents and a similar rate to safari tents, though rates vary based on location, interiors, decking, etc. They're a staple of the glamping industry and are a solid choice for any prospective glamping operator.
How Much do Yurts Cost?
Naturally, prices vary depending on size, quality and interiors, but the price range for a high-quality yurt generally ranges from around $15,000 - $30,000.
Best Yurt Manufacturer - Secret Creek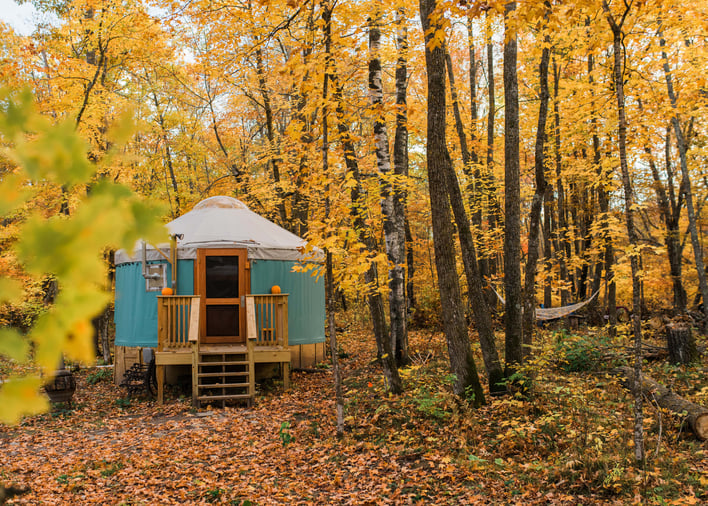 Secret Creek, formerly known as Colorado Yurt Company, is a Montrose-based company that manufactures yurts, tipis and tents. The team at Secret Creek are true masters of their craft, creating yurts not just for glampgrounds but for schools and businesses too.
They're one of the nicest teams to deal with in the industry, and they caused a stir at the 2022 Glamping Show by bringing along a real-life mule to greet visitors!
Best Glamping Domes (Geodesic Domes)
Geodesic domes have become hugely popular glamping structures in recent years. We speak to so many people who want to put domes on their property, and it's no surprise given how cool they look. Their appearance is only half the draw, however. The real beauty of a glamping dome is how good it feels to stay in one. Not only do you get to relax in a cosy setting, but the wide windows (and sometimes completely transparent shell) mean you're often afforded stunning views of your surroundings.
Geodesic domes are also incredibly sturdy, making them suitable for year-round glamping. There are sometimes issues with zoning and permitting due to their unusual shape but, if you can navigate that particular stage (with Glampitect's help), glamping domes represent a fantastic return on investment.
How Much do Geodesic Domes Cost?
For a basic shell with doors and windows, you're looking at around $15,000-$30,000 for a high-quality glamping dome. You can probably find lower prices on websites like Alibaba, but you're far more likely to run into issues with these structures than when purchasing from a reputable manufacturer. We've heard horror stories about leaky roofs on cut-price domes! So when you're browsing the best glamping domes for sale, make sure you're not just choosing the cheapest option!
Best Dome Manufacturers
Below are some of the best glamping domes for sale in North America.
EJH Distribution
One of EJH Distribution's flagship products is the Round Holly, a beautiful canvas dome manufactured by De Waard. De Waard have been making canvas structures for over 75 years and, as a result, they're considered one of the world's premier canvas manufacturers.
The advantage of the Round Holly over other domes in this list is that the breathable canvas ensures guests are kept cool, even in the highest temperatures. This is in contrast to cheaper PVC finishes, which can create a greenhouse effect.
FDomes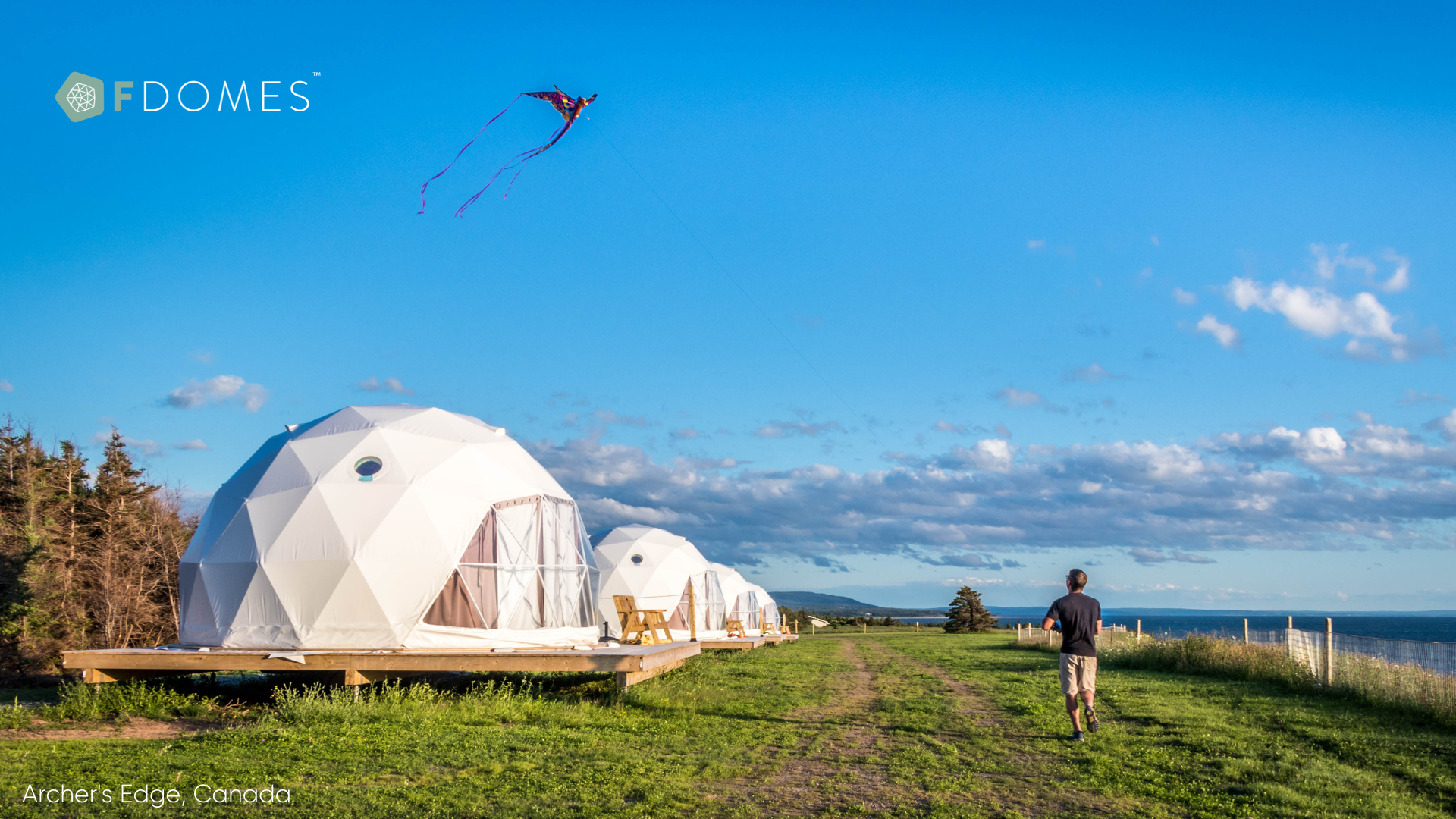 We first got to know the team at FDomes through our UK branch. We've spent time with them at various trade shows over the years and seen their domes first-hand. They've got a huge presence across Europe and are rapidly winning over prospective glamping operators in North America with their beautiful domes and high degree of customization. Arguably the worldwide industry leaders in glamping domes, FDomes are a great bet for your glamping business.
TruDomes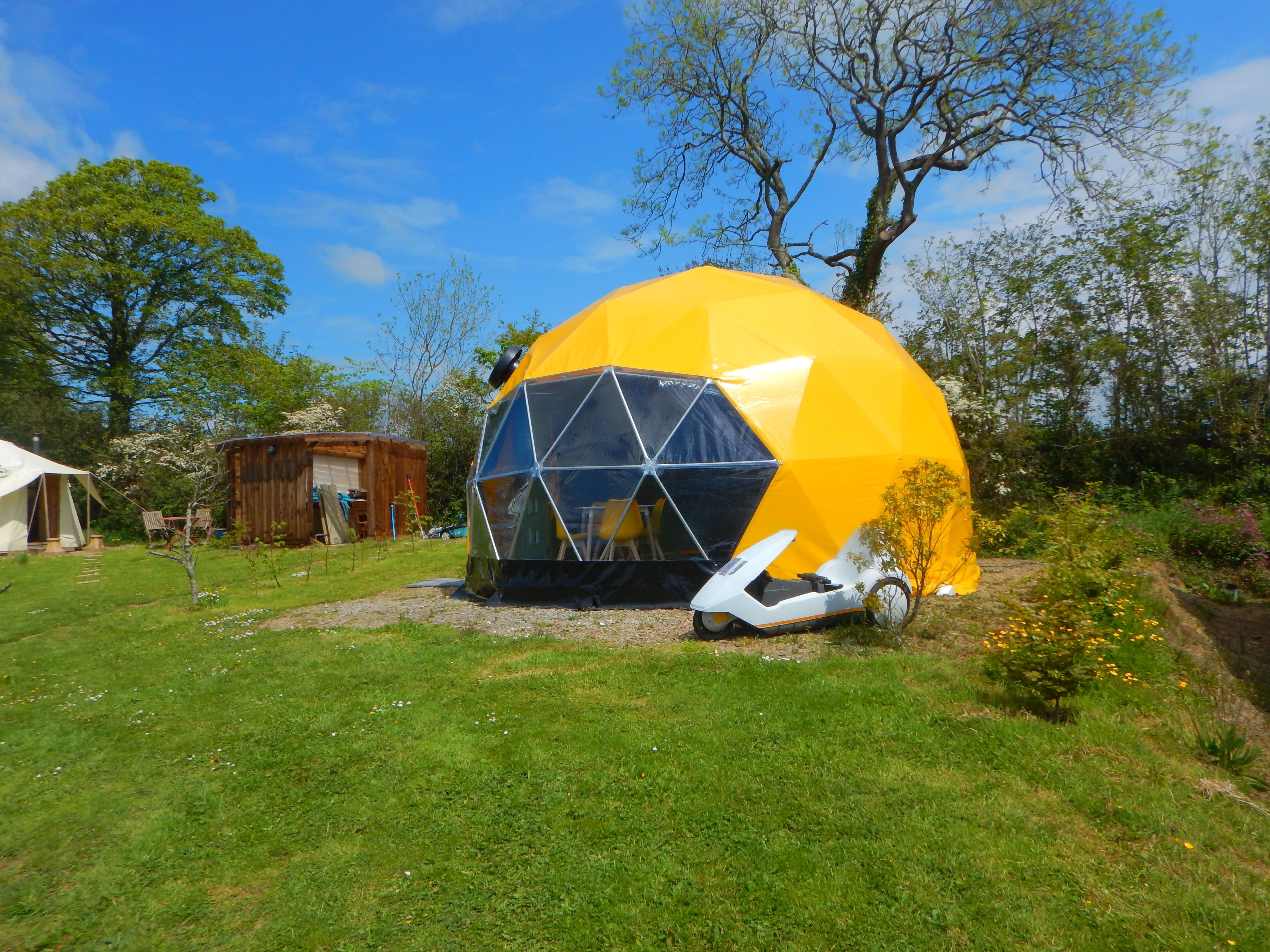 TruDomes, like Glampitect, started in the UK, grew rapidly and recently expanded to the American market. They've since set up a facility in Utah to reduce shipping costs for clients and are already taking the American glamping industry by storm. TruDomes have supplied their structures to some of the biggest names in the UK glamping industry, including Apple Camping and Tractors and Cream, and it won't be long before they're doing the same in the US.
NovaDome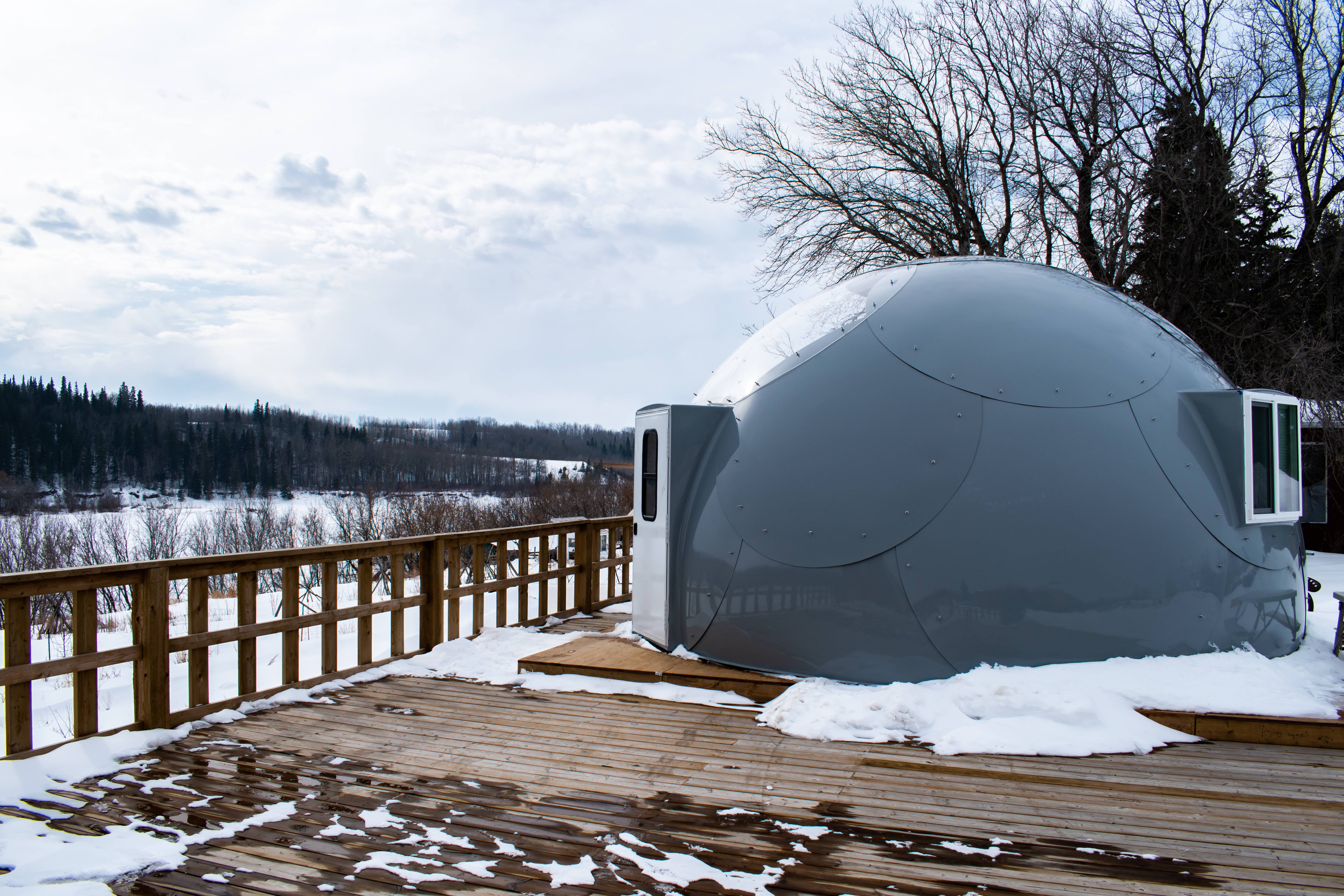 Headquartered in Alberta, NovaDome are newer entrants to the glamping market. They employ a unique building method, taking inspiration from military and disaster relief structures. This makes their glamping domes particularly great in areas with harsh climates, as you can be sure they'll withstand everything the elements throw at them.
Other Glamping Structures
We've covered the three main types of glamping structure, but they're not the only options on the market. Here are a couple more options if you're looking to create a unique glamping experience:
Best Glamping Wagons - Plainscraft Covered Wagons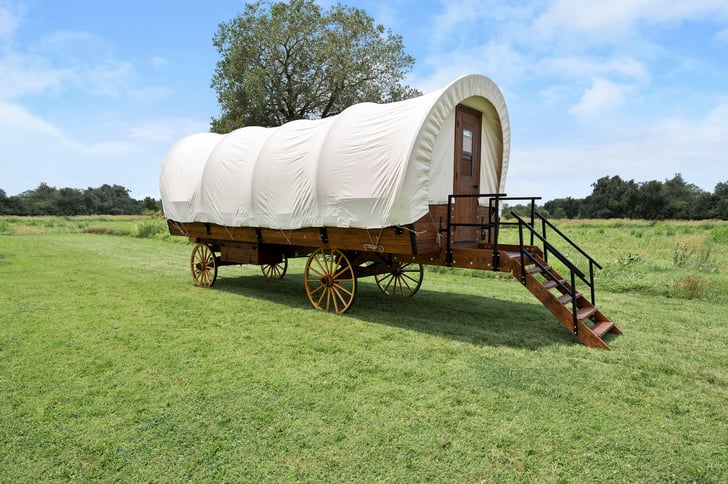 There's no glamping structure more American than a wagon! Wagons offer something completely unique for guests and create a surprisingly cozy environment for families and couples alike. Kansas-based Plainscraft Covered Wagons' handmade creations bring the magic of these historical vehicles back to life.
Best Glamping Cabins - Cedar Bound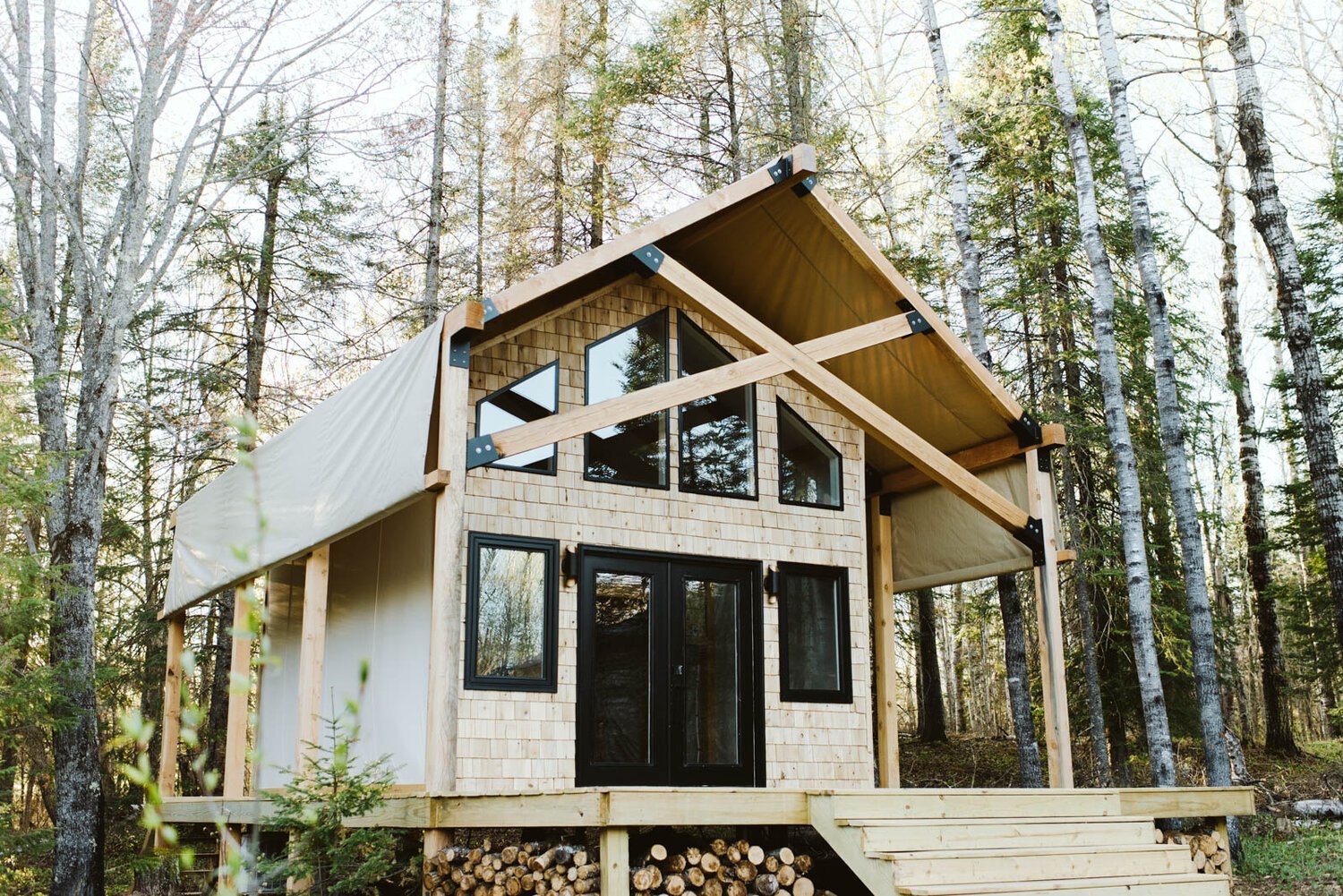 If we were to present an award for the creators of the most innovative glamping unit on the market, it would be given to Cedar Bound in Minnesota. They've created a two-story structure that's a cross between a traditional cabin and a luxury tent. We met them at the Glamping Show and they're lovely people, too!
What Next?
Glampitect North America has fantastic relationships with all of the manufacturers listed above. If you're interested in speaking to any of them, register you're interest below and we'll make the necessary introductions to ensure you're looked after.
If you want to learn more about starting a glamping business, check out the resources below: