Balmoral Show 2022 - Tickets, dates, location and more

With spring well and truly upon us, it can only mean that the Balmoral Show is fast approaching once again. Northern Ireland's largest agri-food event is one to mark in the calendar every year, with the wide variety of exhibitions typically including showjumping, children's farms and motorcycle displays!
With so much to see and do at the show, here's the information you'll need to make the most of your day.
When Is the Balmoral Show 2022?
The 2022 show is taking place from Wednesday 11th May to Saturday 14th May. Doors open at 09:30 each morning, while closing times vary from day to day:
Wednesday: 09:30-18:00
Thursday: 09:30-20:00
Friday: 09:30-19:00
Saturday: 09:30-18:00
Balmoral Show 2022 Location
As has been the case for a number of years, this year's show is being held at Balmoral Park, Lisburn. Located 10 minutes from Belfast, it's an ideal venue for locals and visitors alike.
The postcode to get to Balmoral Park is BT27 5RL, and directions are available here.
Balmoral Show 2022 Ticket Prices
Tickets are the same price each day, and are broken down into the following categories:
Adults: £22.50
Children 5-11 years: £3.20
Children under 5 years: Free
Seniors over 65 years: £17
Youths 12-18 years: £16
Members of the Royal Ulster Agricultural Society: Free
There's a no-dogs policy at the show, with the exception of assistance dogs.
Buy tickets for the Balmoral Show 2022 here.
Attending the Balmoral Show? Come and Say Hello!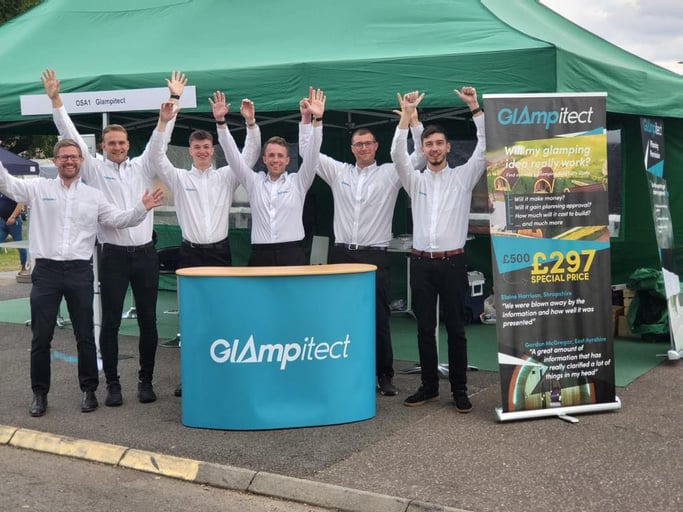 If you're attending the Balmoral Show and you want to earn an additional source of income from spare land, come and say hello to Glampitect at outdoor stand A5A. We help people start profitable glamping businesses. To arrange an appointment with one of us at the show, email nick@glampitect.co.uk.