Who Goes Glamping in the UK? Choosing Your Target Market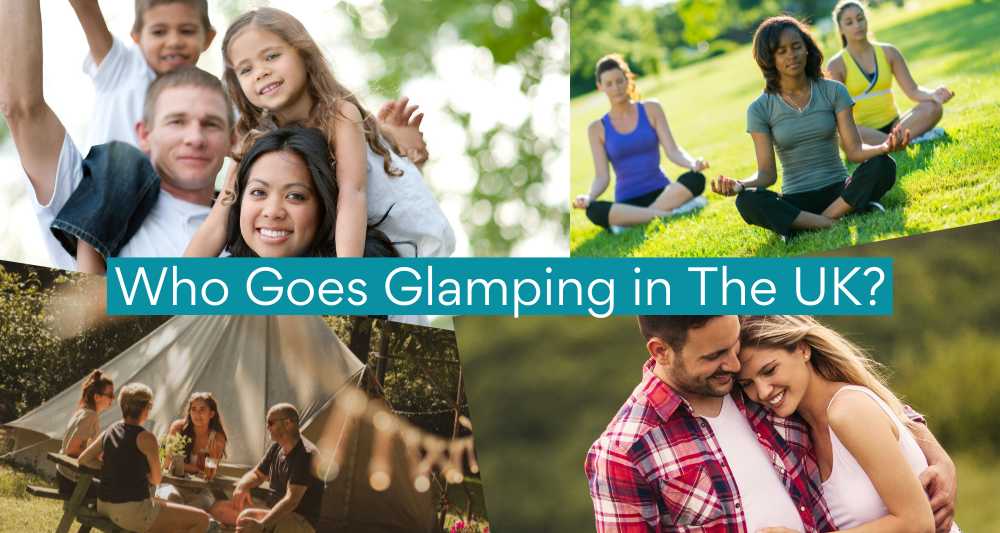 Who goes glamping in the UK?
The answer to this commonly asked question is both very simple and kind of complicated all in one.
The answer is everyone.
Granted, not every single person would choose to go glamping – but people across all age groups, occupations, lifestyles and walks of life book glamping accommodation. And so we must turn it around and instead ask the real question:
Who do you want to stay at your glamping site?
It is up to the owner of a site to determine the target market they are aiming to appeal to and the types of guest they would like to attract.
Through our work around the UK and beyond, we have seen sites cater to every possible desire. While the two main markets are romantic couples' escapes and family breaks, we have also worked with equestrian centres; yoga and wellbeing retreats; outdoor adventure and activity trips; relaxed group holidays; and everything in between.

How Can We Attract The Chosen Market?
In terms of how to reach your target market and what will make your site stand out to potential guests, there are several things that are important to consider throughout the concept, design, planning and marketing of your project.
What's The First Thing To Consider When Targeting a Specific Sector of the Glamping Market?
Unit type is the first key to unlocking the desired market and can make all the difference to who chooses to stay at your site.
For example - to couples, high spec shepherd huts or pods that offer a cosy and intimate retreat for two, with a well-finished en-suite and dedicated sleeping area will appeal. In balance, shepherd huts that feature bench seating which converts into a bed, or units that use separate/communal toilet and shower facilities can be off-putting, as these add an extra level of hassle which diminishes the relaxing and luxurious feel of the accommodation.
For families, larger pods that can comfortably sleep 4-6, for example those with integrated bunk beds or separate bedrooms, and again that feature a well finished en-suite will stand out. The ability these units offer to have some separation so that young children can be sleeping while older guests can still be enjoying the living space is a highlight, while the provision of an en-suite removes the need to take children out of the unit in potentially bad weather and at all hours, which would be impractical and unappealing to most parents.
For both of the couples and the families market choosing units that feature a well-equipped kitchen area allowing guests to enjoy the perks of self-catering will help to appeal to the desired customers.
For more guidance on choosing which units are best for your site and your desired type of guests
What About Glamping Site Layout?
The next piece of the jigsaw is to ensure that your
are conducive to the type of holiday you want to provide your guests. For couples this may mean that units are positioned with landscaping and natural screening carefully designed so as to provide the highest possible level of privacy and sense of exclusivity to guests. Meanwhile a more family-oriented site may still provide some private outdoor space through screening and landscaping, while also having units positioned around a central open area allowing the opportunity for children to run and play while parents can watch from the comfort of their own space.
Can Unique Selling Points Influence Potential Guests?
Yes! Guests from any sector of the tourist market are looking for something that catches their eye.
This is where USPs come in to play! Unique selling points (USPs) allow you to truly set yourself apart from the crowd. They can constitute everything from little touches such as providing toiletries, samples of local produce or offering travel cots and high chairs if requested, to more extravagant additions such as private hot tubs, a children's play area, or an on-site sauna pod.
Looking at what other sites in the area offer in terms of USPs can help to identify what is missing locally and what may be essential to compete with other sites. This is just one of the many things our
covers – with our glamping experts assessing the key features of potential competitors and offering site specific advice on how to match or exceed the offerings they provide – as well as assessing overall feasibility of a client's idea. Through this service our team guide clients from planning likelihood to construction challenges, to potential return on investment, and everything in between.
The
will also help to reach the desired sector. For example having your site featured on websites, social media pages or in magazines that are aimed at parents will of course allow your glamping accommodation to be seen by those within that group – an approach that can be adjusted to target any sector of the market, supported by paid ads and sponsored posts on various social media platforms, etc.
Do I Need To Choose Just One Glamping Market?
While most sites are aimed at a specific group, alternatively you could choose to keep your options open, so to speak, and have a broader ranging appeal.
For example, our own
are an accommodation option that appeals to many types of customer from across the market.
We offer high-spec, modern pods, featuring en-suite shower rooms, well-equipped kitchen facilities, and dedicated sleeping areas with comfortable double beds. Our pods also feature a sofa bed in the living area, allowing the flexibility for up to 4 guests to stay, without the units feeling too big for just two guests to book.
The exception to this is the Honeymoon Pod, which sleeps 2 and offers a slightly elevated level of accommodation for couples looking for something even more special. Our sites offer privacy, while also providing communal space for guests to enjoy. Our Brora site also features a Sauna Pod – a USP and a true highlight to those that stay. We find our two main customer bases are the two main markets discussed – couples and families – but our locations on the North Coast 500 route allow for us to also appeal to car enthusiasts and cyclists on their NC500 journey as well as many others wanting to explore the Scottish Highlands.
So What's The Key to Success?