How Much does it Cost to Set Up a Glamping Site?
Created by Calum Published on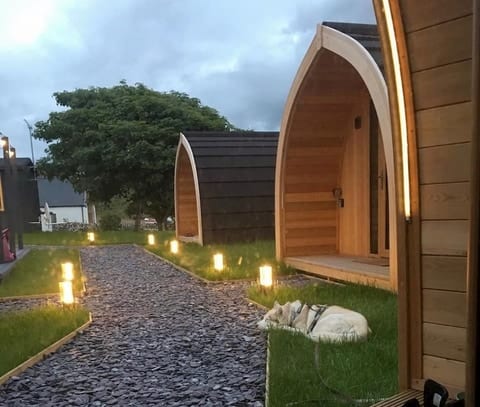 Before you apply for a loan, you will need to get planning permission for your site. As part of the application you may need to pay for a number of reports such as environmental impact studies, a financial study showing the impact of your business on the local economy, flood surveys and habitat surveys. More information on the types of reports that may be required are detailed in our popular feasibility studies.
Schematics of the luxury pods you will be building on your property will be needed. If you want to be sure you obtain planning permission, including statements from experts, will help to turn opinions in your favour. All of these will be out-of-pocket costs because planning permission is a must if you are going obtain a loan.
If you are planning on using pods as your glamping units, you'll want to consider the type you require, as the price of these can range anywhere from £3,000 to £25,000 or more depending on the size and quality and if it is a bespoke design. The average cost for a high-end glamping pod in the UK runs between £20,000 and £25,000. The higher-end pods are definitely the most popular with potential visitors and show the best return on investment. You should be sure of the clientele who are your core customers before you decide what kind of pod you are going to use.
If you are catering to a higher-income clientele, you can recoup some of the expense through the prices you charge, so more expensive pods would be sensible. On the other hand, if you are catering to average income families, then you may want to purchase pods that are more basic, to provide the best value for your market.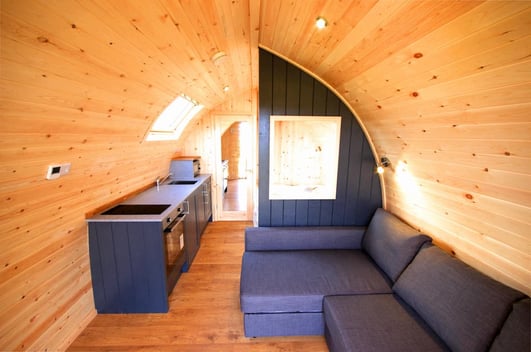 Generally, the higher end pods come almost fully furnished, leaving you to put your personal finishing touches on them. Some of the cheaper units come unfurnished. Again there are a wide variety of costs when it comes to furniture. As with the pod itself, what you spend should reflect what you can recover through the prices you charge your customers for their stay. A cut-glass chandelier and mahogany tables may not be the best choice for customers with an average income.
If you have to build any amenities such as a car park or a separate toilet block or install outdoor lighting, then you will need to be sure the amount of the loan you apply for covers all these costs. Your guests will expect a certain level of civilisation as part of their glamping experience, so forgoing these sort of conveniences can be detrimental to your business. Remember, if there are minimal services, then your glampsite becomes more like a campsite. You can expect your customers to go elsewhere if they don't have an authentic glamping experience.
USE OUR FREE CALCULATOR TO WORK OUT YOUR GLAMPING SITE COSTS NOW
Will you have a welcome pack full of local produce for your visitors on arrival? Or will you be offering marshmallows on a stick with a sing-along? Will you have a housekeeping service to make the beds when your customers are enjoying the outdoors? The level of service you plan to provide to your glamping customers will determine how much you spend. Wages and supplies must be factored into the overall cost of opening a glamping site. Glampers expect to have a unique experience in which their needs are catered for. If you decide to skimp on service, then your site may not be classified as a glampsite.
Delivery, insurance, utilities and marketing are all costs you need to consider in the overall budget for setting up your glamping site. Make sure you look into all potential expenses so that you don't have any unpleasant surprises later.
Understand Your Investment
The bottom line is not to spend more than you can make back through charging your customers. Remember the primary reason for any business to exist is to make a profit. If you are precise about what you have to spend and you provide a top-quality glamping experience, then your glamping business is likely to be a success.