All Aboard! Why Glamping Buses Are a Great Idea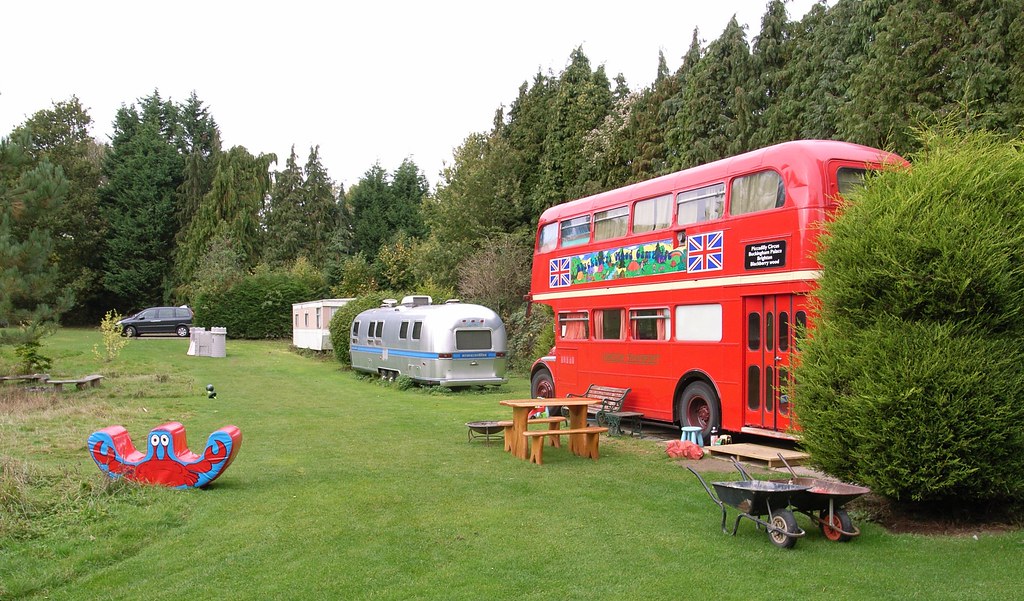 As the glamping industry matures, we're beginning to see accommodation offerings get wackier and wackier as glamping site owners look to stand out from the crowd. One such wacky offering is bus glamping, where ambitious site owners buy old buses and convert them into high-end accommodation. But is this a wise strategy?
In our previous blog posts in this series on Johnny Vegas' glamping site, we reviewed the Channel 4 documentary series that showed Johnny's dream becoming a reality and gave an overview of his glamping site. Inspired by his use of converted buses, today's blog post takes a broader look at the rise of the glamping bus and explains why it can be great option for prospective site owners.
Johnny Vegas' Glamping Buses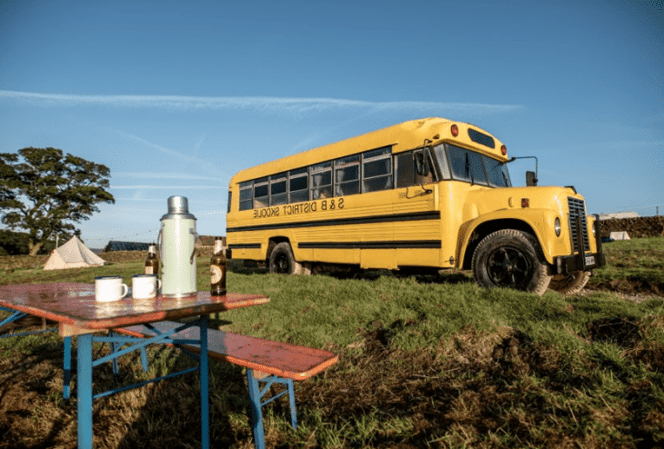 Out of the five glamping vehicles on Johnny Vegas' glamping site in Yorkshire, two are converted buses. The bus with the most touching story is Patricia the Maltese Bus which is named after Johnny's late mum. Patrica was caught up in a boat fire as she was being shipped across to the UK and she crashed into a cow shed just as she was being delivered to the site. The other bus on the site is Skoolie the American Bus, a renovated school bus in the traditional American style.
With Patricia selling out for 2021 within an hour of the website taking bookings, and Skoolie doing the same not long after, it's clear that there's a market for this style of accommodation. But is it replicable without the immense marketing power that a Channel 4 documentary series provides?
The short answer is no. You're probably not going to be fully booked up for the year less than an hour after opening your site for bookings, no matter how nice your buses are.
But the benchmark for success isn't being sold out within an hour. If you can achieve a 60% occupancy rate across a period of 12 months you're almost certainly going to be running a highly profitable glamping business. There are plenty of ways to reach such an occupancy rate, and one of them is by providing unusual accommodation like a bus.
Why Glamping Buses Are Great
They're Unique Selling Points
The glamping market will eventually become saturated.
In our various podcasts, blogs and guides, we frequently discuss the fact that more and more sites are opening their doors for guests, making it inevitable that the industry is going to start getting a little crowded. When the market is saturated, glamping businesses can't make money simply by existing, as prospective guests can afford to be more selective about where they stay. That's why it's vital to offer unique selling points (USPs) if you want to survive and thrive.
USPs can come from a variety of sources, but the obvious place to start is to make your accommodation completely different from anything else in your local area. If the only options nearby are pods, huts and tents, a converted bus is going to stand out from the crowd.
They Offer an Experience
So much time and effort is put into attracting guests to glamping sites that offering them a truly wonderful experience is often an element that's neglected. This shouldn't be the case, as the only way you'll convince people to return to your site and tell their friends is by completely wowing them during their stay.
If you do a proper job with the conversion, to the point that the interiors reach hotel standards of luxury, you're laying the foundations for a world-class guest experience. To ramp things up a notch, consider taking a leaf out of Johnny Vegas' book and crafting a story around the bus. What's more compelling: An old bus that's been turned into glamping accommodation, or Sammy the London bus from the 1950s, heading for the scrapyard until you laid eyes on it and realised that it had to be the centrepiece of your glamping site?
It doesn't take much to create a magical experience but the rewards can be great. By using vehicles that have genuine stories behind them, you're at a huge advantage.
They're Great for Families
Glamping buses aren't for everyone. If your site is being marketed as a cosy escape for couples, you probably don't want to plonk a great big double decker into a field and call it a romantic hideaway. However, if you want to create a site for families that offers plenty of fun for the kids then a glamping bus is a great way to go.
Cast your mind back to when you were ten years old. If your parents asked you whether you wanted to stay in a tent or a big red bus, which would you choose? You would probably pick the latter.
By offering accommodation that appeals to children, you'll have parents that want to give their families a once-in-a-lifetime experience queuing up to stay at your site.
Buying and renovating a glamping bus isn't a logistical walk in the park. Neither is negotiating the planning issues that inevitably arise when you use them as glamping accommodation. But if you're prepared for the financial and emotional rollercoaster that is starting a glamping business, getting aboard a glamping bus might just be the way to go.
If you're thinking of starting your own glamping business, get in touch to see how we can help.