More People Than Ever Want to Start Their Own Glamping Business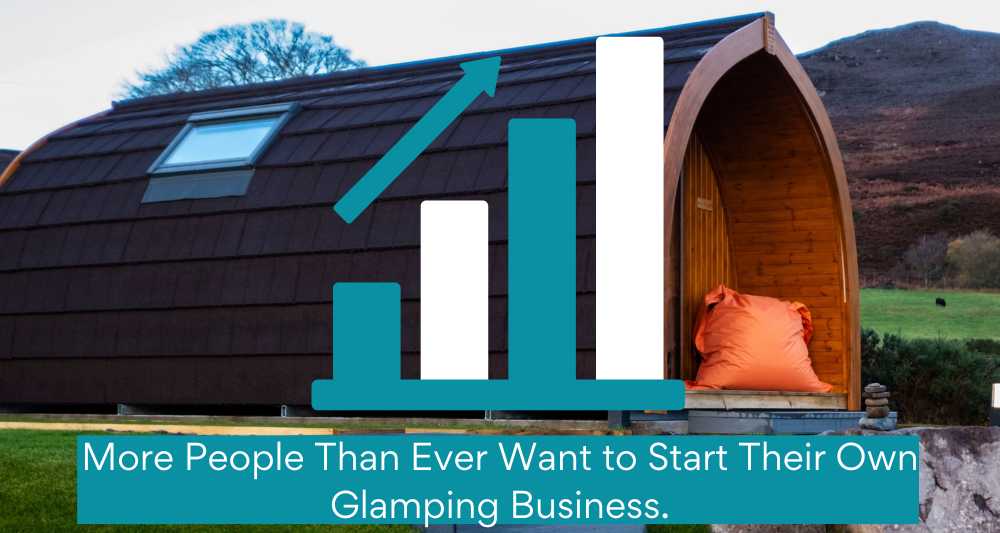 Over recent months we have noticed a change in the glamping industry
While glamping has been increasingly popular for several years now, recently there has been a sharp rise in the number of people actively taking steps to start their own glamping business. This is evidenced by a 30% increase in sales across August-October when compared to the previous three months, giving Glampitect 2 record sales months in a row and even a record sales week, helping more people than ever start their glamping journey.
Why is glamping continuing to rise in popularity?
There is a myriad of reasons that the glamping industry is continuing to grow at a strong and healthy rate despite the uncertainty present in so many industries just now. As we all know, the Covid-19 pandemic led to a huge increase in the popularity of 'staycations' – and even now with the borders being open and international travel being an option again, the ease and convenience of a staycation is irresistible to many.
Glamping is also typically very affordable for guests – which is particularly important in current times. This doesn't mean cheap – luxury glamping sites can achieve nightly rates in excess of £150 – read more about figuring out your nightly rate
. The difference is that for a hotel stay the room cost would just be the beginning, with restaurant/room service/bar/entertainment costs piled on top, soon leading to a much higher overall nightly cost to the guest.
Glamping has the unique advantage of being able to offer the same level of comfort and luxury as a hotel room, while having the benefit of self-catering facilities allowing guests to cook their own meals and bring their own refreshments. Additionally, having some private outdoor space, perhaps with a firepit or hot tub, or even just some seating, allows guests many options for entertainment that can't be provided by a hotel. This means that a glamping trip can be as cost-effective or indulgent as guests desire.
From a business perspective, glamping offers the opportunity to make money from land that otherwise may be sitting unused,
, or
and support the existing business. With everyone affected by the current financial situation, many of our clients are looking for ways to maximise the earning potential of their land.
When is the best time to start the process towards opening my own glamping site?
There is no 'right time of year' to start the process of opening your own glamping site, but there is also no wrong time. The design & planning process overall can be a lengthy one – although Glampitect will always put in our best efforts to help our clients make their idea a reality as efficiently as possible. Council planning departments have varying response times, with the average time from submission of an application to approval being around 3-4months. As such it is a good idea to get things moving as soon as you feel ready.
It is also worth noting that planning approvals typically allow for development to begin at any point within 3 years of approval being granted – so there is no pressure to break ground as soon as you get a response, should timings not suit you. This gives you the flexibility to work around your other commitments or busier times of year and plan construction for a period that suits, knowing that planning permission has been given and nothing is standing in your way.
What are the first steps in starting a glamping business?
The first step we typically recommend to our clients is a
which will assess the local Planning Authority's receptiveness to previous glamping applications, planning constraints and construction challenges specific to the land proposed for development. It also covers competition in the area,
for the business, and next steps in the planning process. Through the Feasibility Study our team can also help to guide you on
, suited to your site, USPs, and many other aspects of the initial idea stage.
So where do I start my glamping journey?