Create a Virtual Glamping Tour: Discover 360 Virtual Tours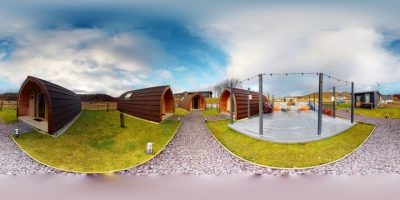 When you've set your glamping site up and you're ready to market it, how do you go about it? Do you scramble to take a few photos with your phone and upload it to social media? Or do you have a website dedicated to people viewing your glamping site?
What you may think isn't an important task could actually be what sets you apart from your competition. In a digital age, the best way to showcase your glamping site is through digital means! As a result, glamping sites are in need of finding ways to present their site in a unique way.

Enter our partners, Discover 360. They aim to bring brick and mortar businesses into the digital space. How do they do this? Through creating virtual tours of their property for their customers to see. Check out their amazing job in creating a virtual tour for our site, NC500 Pods
Who Are Discover 360?
The Glasgow company have grabbed onto the virtual reality market with both hands. Their virtual tours are done by creating a realistic, interactive 3D experience that can be hosted anywhere.
It can be embedded onto your website, social media and even through email. In a nutshell, every nook and cranny of your glamping site can be seen by anyone you want, without them having to see it in the flesh (until they book a stay, of course).
What Benefits Does This Have for Your Site?
Improved sales
Uploading the tour is far better than putting 2D images on your website. The chances of a visitor who might want to stay at your sight to actually book in will be much higher, almost twice as likely in fact. Your potential guests will be getting an accurate visual experience of what your site has to offer, and 18-34 year olds in particular are 130% more likely to book.
Convenience (for customers)
A virtual tour allows a customer to easily check any specific details about your business from the comfort of their home. They can quickly see what specific facilities your glamping site will have, all within a few seconds by looking through the virtual tour.
More website traffic
Most prospective guests search online and try to get as much information as possible about a company before making a purchase. You can make it possible for these guests to find out much more about your business in much less time through a virtual tour.
Moreover, they will very likely spend more time on your website because of the interactive nature of the tour. It's been found that people spend 5-10X longer on websites with an embedded virtual tour than those without.