Starting a Glamping Business
Glamping pods, site design and of course, planning permission are the mainstays of starting up a glamping business.
Planning permission is something that you are going to need if you are starting a glamping business. Regardless of the size of your business and the number of pods, the local council will need to approve of your planning permission in order for you to start working on your glamping site.
This may seem complicated, however, it has been done many times and is essential for a successful start to your glamping business. It has an impact on your glamping site design and will substantially give you a better chance of success when starting a glamping business.
There are many things included in planning permission, such as Computer-Aided Design (or CAD for short). Words like CAD are thrown around on the internet often, but some are still unsure as to what it entails.
Throughout this page, we will thoroughly explain Computer-Aided Design and answer the question of how important it is for planning permission and glamping site design. It is essential to know about CAD for the future of your glamping business and to get through the planning permission stage.
What is CAD Design?
CAD or Computer-Aided Design is simply the process of designing/planning through an online visual program. It can be used for various different purposes and is frequently used in tech-based projects.
It has become more popular in the glamping industry for use when developing a planning permission application. This is because it is needed for some parts of your glamping site design. People have switched from using visual designs drawn themselves, to in-depth 3D Computer-Aided Designs.
There are many different programs online that allow you to create Computer-Aided Designs and get you through the planning permission process, or you can work with another glamping related company to help you through the process.
How Can I Use CAD For Glamping?
As mentioned already, you can use CAD or Computer-Aided Design for glamping within your glamping site design, which is needed in order to get your planning permission application accepted.
Many people across the glamping industry use CAD for design, as it helps the local council get a better understanding of your glamping site and what you are offering your customers and visitors alike.
For reasons of safety and regulations, local councils want to view your proposed glamping site in order to make sure the site is safe and includes everything needed for a successful glamping business.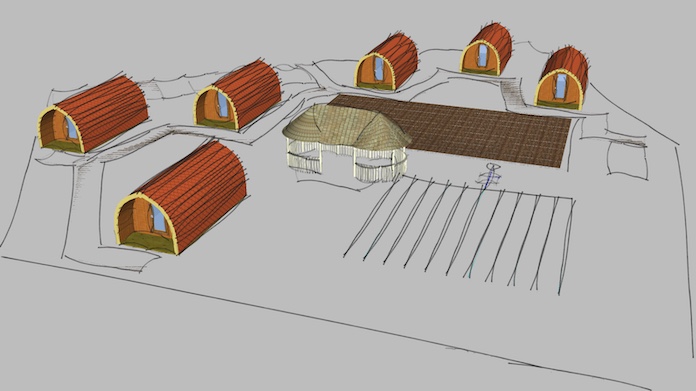 Councils have worked with many glamping businesses, and have a good understanding of what building regulations are required for your business to function properly and be considered legal and acceptable.
CAD for Planning Permission Applications
Within your planning permission application, you are going to need to use CAD for your glamping site design and a few other important things for the application. You can get the majority of your design done by drawing or on paper, however, local councils prefer Computer-Aided Designs as they are a lot easier to use and understand.
This means that it would be more beneficial for you to use as you have more of a chance of your planning permission application being accepted. Although it may take longer and can be a bit more complicated for some people who aren't as technologically skilled, the results are worth it.
Planning Permission is a hard enough task to complete, and if you are new to the glamping industry, you may get some points wrong during this stage. Using Computer-Aided Designs rather than drawing can show the council that you are more than capable of starting a glamping business.
Should I Use CAD For My Glamping Site Design?
This question depends on the time that you have to complete your planning permission application, your dedication to the glamping industry and how much you want your business to succeed. Glamping is an industry with huge potential for growth, but that doesn't stop the regulations involved with planning, and CAD can have a make-or-break impact on if your glamping site succeeds.
Planning permission can be accepted or turned down by the local council for numerous different reasons, but one of the most popular instances is when drawings are done poorly, forcing the council to return the planning permission application. This is mainly due to the fact that the council is unable to understand your vision from the drawings.
They must have a good idea of the layout and site design before giving you permission for your business to work there, and Computer-Aided Design gives an opportunity to get this done without any errors occurring.
It is completely down to you and your technical ability whether you use CAD for your glamping site design, but we recommend using it as it is a benefit to your planning permission application.
Is It Necessary To Use Computer-Aided Design For Planning Permission?
As mentioned previously, we recommend using Computer-Aided Design for planning permission, however, we understand that it is not 100% necessary for your glamping site to succeed, and many applications have been processed without the usage of CAD.
It can drive efficiency, and help the process move a lot smoother, but if you do not have the technology or budget for CAD usage in your planning permission application, it can be done by other means, such as technical drawings.
The decision is completely up to you, but we believe that you have a better chance of your planning permission application being accepted if you invest in Computer-Aided Designs for your glamping site.
Using CAD for Glamping Site Design
For your Glamping Site Design, there are a few instances where you can use Computer-Aided Design in order to help you through the process and express your design ideas to the local council better than you would have otherwise.
The main glamping site design can be done using CAD to show the council your vision for a glamping business. However, there are a few more times where using Computer-Aided Design can be helpful in achieving planning permission. One of which would be the glamping units, which should be drawn and included with the orientation of them and any roads/paths/parking on your glamping site.
Expressing the glamping site design through CAD at this stage in planning permission can be helpful as it gives the council a better understanding of the layout for your glamping site, which when drawn on paper may look a bit different to what you initially had in mind. It also makes the glamping site look more realistic, having a positive effect on the planning permission application.
There are also some more parts of glamping site design that can be done using CAD, including site section drawings, utility distribution, lighting drawings and landscaping.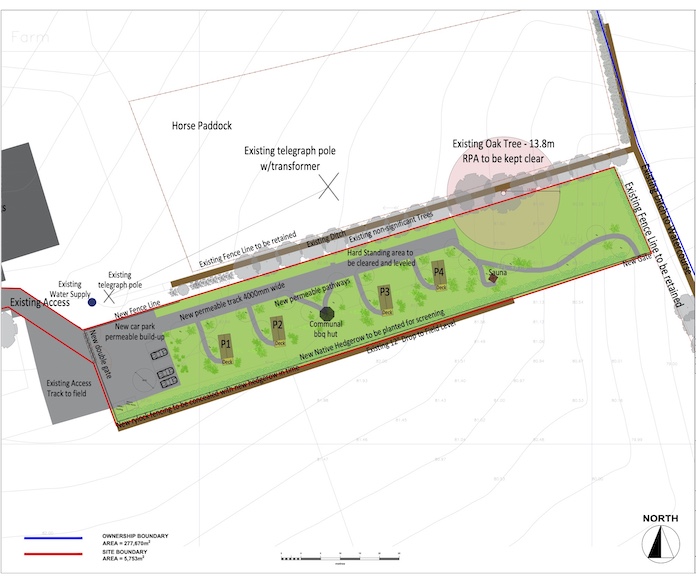 For the pre-planning application, it would also be helpful to include some technical drawings and CAD. Some of these are necessary such as those listed below:
A proposed layout drawing, typically created digitally, to create an overhead view to show the layout of the site.
A location plan, which requires the purchase of a scale map, to identify the boundaries of the glamping site.
A design and access statement, describing the concept of your proposed glamping business.
Where Should I Use CAD In Planning Permission for Glamping Sites?
If the council sends back your application with amendments to make, it could be beneficial to make those amendments using CAD. Having someone on your team with abilities in Computer-Aided Design could cut down a lot of time spent within the planning permission process.
After, there are also sections of your planning permission application that need design work, which can use CAD to become more effective.
A road/parking plan drawing is necessary to show the council how you plan to manage customer vehicles safely, and also a drawing of access to show the council the access point to your glamping site.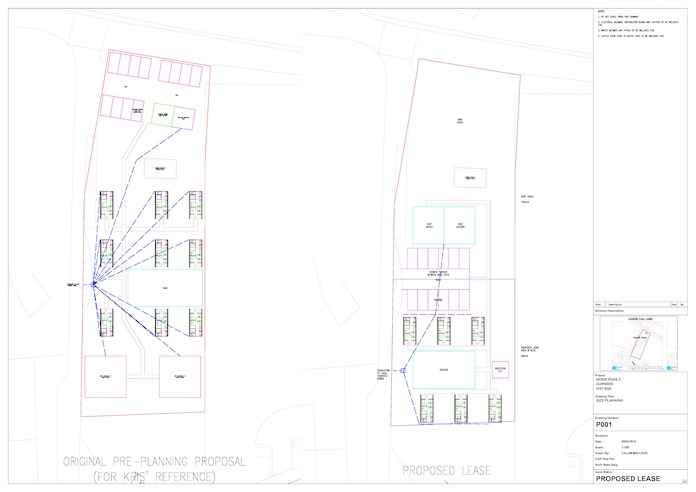 A drawing of the drainage system, including pipework, treatment tanks etc, is also seen as necessary for the council to understand how you plan to keep hygiene and safety regarding drainage.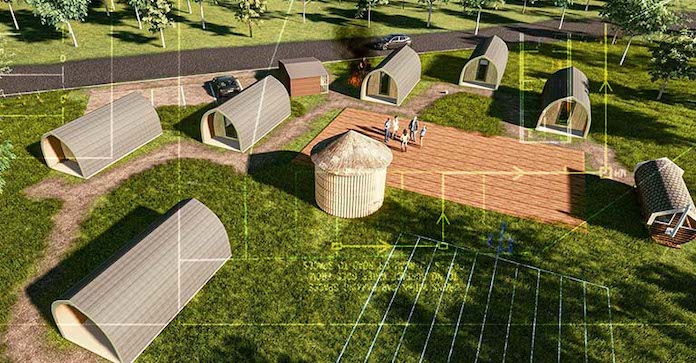 Assistance With Planning Permission from Glampitect
Planning Permission is a beast on its own, aside from the Computer-Aided Designs. There are many different things that need to be included within the planning permission application and it can become confusing to many who are new to the industry or who are unsure as to what needs to be shown to the council.
We have a free guide written on Planning Permission and for how you can complete your planning permission application successfully. If you haven't already, take a look at the free guide to help you through the process of planning permission and to get you started in the glamping industry.
Assistance With Computer-Aided Design
We understand that Computer-Aided Design is a topic that not everyone will understand completely, as it is relatively new and for people with little experience in construction and building, it can seem a lot more complicated than it is.
There are many different articles and guides online that can help you with Computer-Aided Design, such as the one we have regarding planning permission, going over some of the things mentioned in this page.
Before diving into the world of Computer-Aided Design, be sure to get the assistance needed beforehand. Contact us if you have any questions regarding the use of Computer-Aided Design and we can give you the information that you need to get the situation completed. You may also be interested in information about how we can help with concept designs.



Got Questions About Using CAD For Your Glamping Site?
Fill in the simple form below and we'll be in touch.