Choosing The Best Glamping Pods For Sale in England
Created by Calum Published on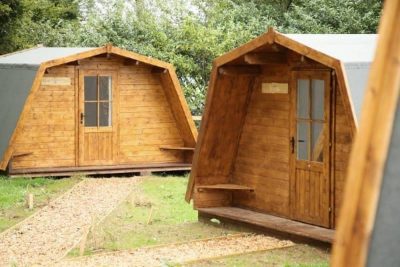 Glamping is growing, and at a faster rate than ever before. The industry of glamping was almost unheard of a decade ago, but now it's become one of the most popular ways to connect with nature while retaining an element of luxury that you don't get with camping. And it's not just a short-term trend either; glamping is here to stay.
With the rise of glamping comes a range of different glamping pod manufacturers. These manufacturers predominantly build glamping pods for use in glamping businesses, but some also offer them for personal use as garden rooms.
As glamping has grown, more and more manufacturers have entered the market. , This can be good news, as competition between manufacturers creates more options for glamping site owners, but it can also make it difficult to decide which manufacturer is most suitable for your business. All manufacturers vary in their designs, offerings and branding, so it's important to pick the right one for your needs.
In this article, we're going to discuss glamping pod manufacturers, and how to choose the best glamping pods for your glamping business.
Glampitect Recommended Manufacturers
As a business, we work within the glamping industry and understand what makes a good manufacturer. Here are some of our recommended glamping pod manufacturers who build glamping pods for sale in England.
Odd Pods
Odd Pods are among the best manufacturers of the classic glamping pod. Their use of a CE certified steel chassis ensures that their pods are particularly sturdy. Keep an eye out for special offers as well - in January 2021, they included a free hot tub for anyone ordering a pod of 7.5m x 3m or above.
Ribble Valley Pods
Ribble Valley Pods offer three pod designs: The Chatburn, The Pendle and The Whitewell, all of which are fully insulated and are equipped and ready to live in. Each of these pods vary in size, giving you options if you want to offer pods with a variety of guest sizes.
If you want to increase your rates by adding luxurious extras, then Ribble Valley Pods can install their pods with options such as underfloor heating, coffee machines and Bluetooth speakers.
Snuggeries Ltd
Snuggeries' pods are designed to be Instagrammable. They know that attracting guests comes down to the high quality accommodation and individuality that they create. They create unique designs using sustainable materials, resulting in pods that last all year round. If you want to branch out your pod even further to create that added luxury, they'll install private hot tub facilities as well.
Need Assistance Finding The Right Glamping Pods For Sale In England?
We understand that it can be hard finding the right glamping pod for you, and with so many options available and a range of glamping pod manufacturers, it can become confusing and difficult to find the right one.
If you haven't already, download our free guide on Buying Glamping Pods to help you through the process, and to assist you in purchasing the right glamping pod from the right manufacturer in the United Kingdom.