Recommended Glamping Pod Manufacturers: Regent Luxury Lodges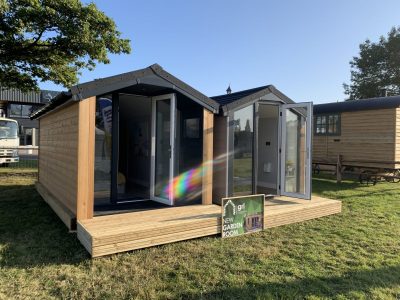 Finding the right glamping pod manufacturer for your glamping site can be a difficult task, considering the number of great pods available on the market and with all the different designs to choose from. We don't blame you if you're stuck for choice.
We're partnered with a number of manufacturers so we can make sure our clients are as informed as possible. One of our manufacturing partners is Regent Luxury Lodges, so let's talk about what they offer.
Who Are Regent Luxury Lodges?
Regent Luxury Lodges are a family-run glamping pod manufacturer who have years of experience in joinery and working with timber. This experience allowed them to move seamlessly into the glamping industry,, designing and building lodges and pods perfect for glamping sites or personal use.
Glamping Pod Designs at Regent Luxury Lodges
Regent Luxury Lodges' products fall into two broad categories: glamping pods and lodges.
Glamping Pods
They strive to build and design the most modern and unique pods on the market. We particularly like their interiors, which are unlike those of other manufacturers in the industry. Each of the pods designed by Regent can be tailored to your exact requirements, so if you have any particular idea in mind for your business then they can factor that into the design.
The pods are modern, comfortable and great for spending time with family and friends. If you're looking for a pod that has luxury in mind, you certainly want to look into Regent Luxury Lodges.
Luxury Lodges
As well as glamping pods, Regent focuses on luxury lodges (hence the name) which are a lot larger than regular glamping pods. They're often referred to as 'homes', and they're all-encompassing units with more features than pods, such as outside decking and a larger number of bedrooms.
There are 6 different designs and layouts of their lodges that you can choose from. If you're looking to add a luxury 'home' that can fit families and larger groups on your glamping site, then be sure to check these out.

Need Assistance With Choosing The Right Glamping Pods?
Choosing the right glamping pods for your glamping site can be a difficult task, especially for those who are not already familiar with the glamping industry and are starting from scratch. The glamping pods that you choose can have a direct impact on the success of your business and it's important to get this stage right early to avoid complications later on with your business.
If you haven't already, take a look at our recommended manufacturers list, which will help you through the process.